Tuesday, January 3, 2012
Today was moving day for the Guild. Most of the boxes were packed before our last meeting at the Soccer Club so we were hoping for a quick turnaround today. Lots of people showed up to help – more than I thought there would be. I arrived fully prepared with six crates and our big grocery bags. We had everything packed into the various cars and vans in under an hour and made the three-block trek to the Senior Center.
Unpacking didn't go as smoothly. The spot that had been designated for one of our cabinets was in front of a heating vent. Until today, the heating vent apparently hadn't worked for years. But there was clearly heat coming out of it today so we couldn't block it off. We also had two cabinets rather than the one that the folks at the Senior Center were expecting. With two cabinets and our bookcase we were going to need more room than had been planned for.
During the move one of the cabinets ended up with a break in the side of it so we couldn't unpack anything into it until it was repaired. I'm not sure what happened to the bookcase, but it was upside down on the floor with only three of the eight castors intact. The men who were helping with all of this went to get tools for the repairs – and I think they abandoned us!
In addition to our regular duties, the Membership Committee is now responsible for collecting the dollar that each member has to pay when they use the Center. And since the other person on the Membership Committee is refusing to join the Senior Center I think I have, by default, become the Membership Committee.
I called for Pat to pick me up as soon as folks started to leave. There were still plenty of boxes of books on the floor but you could see that some of the members were getting a bit testy. I think the meeting on Thursday will be interesting.
The new space is going to be lovely to sew in. It is a very large room (I've heard large enough for 16 sewing tables), very well lit, and it has lots of natural light. I never imagined that the Tuesday morning ladies would be sewing, but as all the controversy was happening at one end of the Center the ladies were setting up tables for cutting and sewing at the other end.
I spent the afternoon in my studio cutting out the fabric for my Mystery Quilt. I was smiling this morning as one of the blogs I follow made a comment that she didn't like Mystery Quilts. She hates the lack of control over what fabrics to use when she doesn't know what the pattern will be. I feel like that every time I purchase fabric so being out of control feels entirely normal to me!
I did some knitting tonight while we watched the Canada-Russia hockey game. For the first two periods I was only watching because it gave me an excuse to sit and knit. By the end of the third period I was putting my knitting down so I could watch all the action. Too bad Canada lost. It was fun to see Andrev Makarov, the Russian goalie who came into the game for the last few minutes. He plays for the Blades and Dave told us the story about how he ended up in Saskatoon.
Monday, January 2, 2012
I had great plans for today and got almost nothing done – again! Pat and I got out for a walk this morning before the rain started. When we finished our walk we did a little grocery shopping and then I did a little Dollar Store shopping.
I had planned to cut my fabric for the Mystery Quilt project but thought I'd put in my time on my website first. It was mid afternoon before I got back downstairs with my questions for Pat. After another lesson I headed back upstairs but decided that was enough computer work for the day. I have a couple more pages to add, and a few tweaks to make to the templates, and I think I'll be ready to make it live.
By then it was too late in the day to start any serious cutting so I worked a bit more on my scrap bin. I find cutting the scraps very relaxing. If I make a mistake, or if my rotary cutter slips, I just add that particular piece to my "strings" box. Strings can be any shape, any length, and they don't have to be straight on all sides. That's my kind of cutting. I will have to get to the Mystery Quilt soon though as the class starts on Saturday.
Late this afternoon I remembered that I was going to do laundry today and I got that started before supper. I will be glad when things get back to normal tomorrow – at least that is when my schedule kicks back into gear. I started taking down the Christmas decorations today. I haven't boxed any of them up yet – that will be another project for this week. I wonder which decoration I will miss and find weeks later when everything is neatly tucked away?
Tonight was cheap night at the movies, but we decided to stay home and watch the hockey game. When we gave up our cable in favor of satellite TV we didn't bother with the sports channel because it was already Stanley Cup playoff season and all the games were covered on CBC. After our disappointment with the Stanley Cup finals Pat decided he wasn't going to pay to watch the Canucks lose. We saw a few games over the holidays and I guess Pat was missing the games as he ordered the sports channel today.
I was all set to sit and knit while we watched the game, but the game started at five and we tuned in shortly after six when they were already playing the second period. Last year I counted on those Canuck games to make progress on my knitting projects. We'll have to watch the schedules better so we don't miss the games that we're paying for (and so that I don't miss my knitting time)!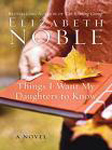 I saw the book in the bookstore on one of our trips to Powell River before we moved. A long time after that trip, when I was going through my journal, I found the title and ordered it from the library. The story is about a family after the death of the mother at an early age. Before her death she left notes and a journal for her daughters and husband. There are a few surprises for everyone.
Christy originally asked for a soft yellow scarf and I had some lovely wool that was exactly the right colour. I think it originally came from Pat's Mum.
The scarf pattern used a condo stitch so it knit up very quickly. The condo stitch is basically a garter stitch (knit every row), but every second row is knit on a much larger needle. That's what gives it the lacy look.
When she added mittens to the order I had to change the wool. Thankfully in my bins I had some perfect mitt wool in a shade of yellow. The mitts were knit on two needles as I was having problems with my usual four-needle pattern.
It took  several tries to get the sizing right on these mitts. I've made a lot of mitts in my time, and when I started getting materials out for the project I remembered that I used my set of four yellow needles. Kathryn had asked for gray mittens so I pulled out the only gray wool I had. After following the pattern for several inches I knew that the size was too small.
I went back to my bins to find some heavier wool (even though it wasn't exactly gray) and started over with the same pattern. Again, after several inches, I knew I didn't have it right  and I gave up on the project. In the meantime I made a pair of mitts for Christy using a two-needle approach.
Not wanting to give up I went back to my bins and found a different set of four yellow needles in a larger size. I don't have many sets of four needles and I was surprised to see I had two sets in the same colour. This time I adjusted the pattern I  used for Christy's mitts so I could make them on four needles.
The wool I used was from a sweater Mum was making for Dad.