Wednesday, December 13, 2017
I was awake and ready to go at 3 AM! I'm not sure what my brain thought I needed to get done so badly; I ignored it until 5:30 when I finally gave in and got up.
I must say you can get a lot done before 9 AM with that early of a start. I did a bit of hand washing, I put up the last of my Christmas decorations, I got the garbage and recycling to the curb, I was the first one at the counter in City Hall to pick up my garbage tags and  I made a list of the things I needed to go when I went out later – as in when something was finally open.
I spent some quality time in my sewing room today. I had a couple of stockings that I intended for Pat and myself; one was finished but the other wasn't. Since I'd had some practice with some of my other Christmas projects I decided to line the second one; it went together very well. I took a look at the one I had finished earlier but I decided that taking it apart to do a lining was going to be tricky so I left it. There is no doubt that I like the lined one better but I'll get used to them being different.
One of the first projects I did on my own when I started quilting was a set of placemats – swans on a red Christmasy background. Mum had cut them out; all I had to do was put the binding on them. They are oval and I hadn't yet learned about bias bindings so they never sat flat and it was always a bit of a joke when we used them. When I took them apart today I realized at the time I did them I didn't know much about binding either; they were a bit of a mess. But I cut out some bias binding and I have two of them back together. I'll do the hand stitching either tonight or tomorrow and the pair of them will go to Texada with me on Friday. I hope to get the other two finished as well and we'll keep two for our table here.
I'm off to a concert tonight. A pair of local women (twins) have just finished a new Christmas record and they will be performing tonight. I'm ready for some live Christmas music.
Tuesday, December 12, 2017
When my alarm went off this morning I really wasn't ready to get up and not only because I thought they said it was -7 outside! But it was a bee day and I hate to miss a minute of it. I thought I should warm my car up a bit before leaving but when I went out it was obvious that I was dreaming the -7 temperature; it was a balmy 5 outside and no fog anywhere!
I had a slow start at the bee. I had two projects that I really wanted to get done today, one more that I would hopefully get done and another one I knew I was unlikely to even start. I set up my sewing machine, got out all my tools and accessories, reached in to pull out my first bag of projects. What! There wasn't a project to be found in any of my bags. I made a trip home; the projects weren't as easy to find as I expected (they were buried under a pile of other stuff) but I was able to get back and start sewing without losing too much time.
Thanks to the bee I was about to cross another thing off my list when I realized that the list was all done – I think I'm ready for Christmas! I have one stocking to finish (not a gift) and one gift to wrap but that's it! I made a new list and – surprise – there was no problem finding things to add to it.
To celebrate my finishes I think I'll spend the rest of the afternoon (and evening) knitting. I finally found the Christmas movies on Netflix so I'm set.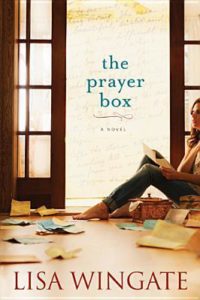 Tandi is a single mother running from a dysfunctional family and an abusive relationship. When she comes to rest on Hatteras Island she is able to rent a small cottage from an elderly woman, Iola Anne Poole. When Tandi finds the woman dead she is tasked with cleaning out the kitchen. But Tandi can't resist the urge to investigate the rest of the house and when she finds a cupboard full of prayer boxes she can't resist reading all the notes inside. What she learns about Iola and herself will change her life.
Monday, December 11, 2017
I didn't have to stand in line too long at the post office this morning. I wouldn't have wanted to be behind me in the line-up though.
When I walked in the door there were about half a dozen people ahead of me. There were two clerks on duty so it didn't take long for it to be my turn. One of the clerks was new and I hoped I wouldn't get her as I had a lot of packages – some big, some small – with different delivery and signing options for most of them. I ended up with the new clerk but she did her job well.
In all the time I was at the counter the other clerk served only two people – but both of them had problems. They were older ladies and they had a heck of a time working the debit/credit card machine; one of them even had to sit and rest a bit between tries. The clerk looking after them was very patient though and eventually they got processed. As I was going out the door I didn't make eye contact with anyone but I noticed that the line up was snaking all the way out the door!
Pat left for the studio this morning; I'll do a walk-on Friday and join him for the weekend. I had a few posters to put up for a Cranberry Hall concert coming in January and when that was done I got the minutes of the last meeting organized and sent out. I have three projects ready for the bee tomorrow, plus one other one "just in case".
I'll do a bit of reading until supper and then knit for the evening.
Sunday, December 10, 2017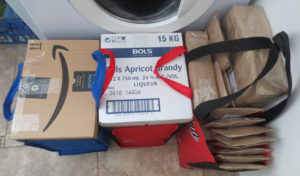 The packages are wrapped and ready for the mail; I found enough large bags that I should be able to get everything into the post office in one trip. I hate to think what these packages might cost me but it's worth it – you're worth it, right!
I spent the morning in the kitchen doing some baking. Pat is hosting a Song Circle at the Hall tonight so I told him I'd do some baking for it. I made a Cranberry Bundt cake and some shortbread. I haven't baked anything since my marathon for Cranberry Day this past August. I will make another Bundt cake for the Guild pot luck later in the week; I'm also looking at some of my other Christmas recipes and I may do a bit more. Not that we need it but there are some recipes I have only ever made at Christmas – brown sugar fudge, nuts & bolts, and chocolate shortbread to name a few ideas going through my mind. I still have a couple of things to finish stitching before Christmas so I'll see how that goes before I add anything more to my list.
But what to do now? Start in with that stitching? Clean up the wrapping paper from the past couple of days? Start re-arranging my sewing space (again!)? Too many decisions – maybe I'll curl up with a book for the rest of the afternoon.