Monday, January 21, 2019
I should have been getting back to normal after several days of sewing but that certainly wasn't the case.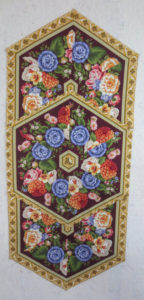 One of the projects we planned for Sunday was a table topper called a Triangle Frenzie. When I came home on Friday night I checked my bins and saw that I had marked the bin that had the pattern and fabric in it. Much to my surprise when I checked the bin on Saturday night there was no pattern or fabric in that particular bin. I checked every drawer, every bag, and it wasn't until I checked the very last bin that I found what I was looking for. Needless to say in my attempt to locate the project I ended up with a bit of a frenzy in my sewing room.
I decided while everything was pulled apart I wanted to do a bit of rearranging. I had just nicely started when the phone rang. Finding a path to the phone was tricky but I caught it before it went to the answering machine. The caller was Moreen asking about a walk for today. I said yes (anything to get out of the mess) but it wasn't easy getting out the sewing room door! We had a lovely walk through some in-town trails. We were only out for about an hour but it was nice to be walking in dry and sunny weather.
When I got home there was a bit of Cranberry Hall and Guild work that needed to be done. Finishing those tasks meant a trip out, but this time by car. I had to drop a letter at the Red Cross Loan Cupboard and it was nice to be recognized by the volunteer behind the desk. We had a good chat about how things are running; some of the things I objected to before I quit were things that the other volunteers refused to do. Apparently the routine for the volunteers is much simpler now; no more washing equipment and they don't have to haul equipment to the storage shed at the back of the hospital.
Since I've been back, I've continued with the organization (although it isn't done) and caught up on some e-mail. I paid some bills and, since the bills were paid, I placed an on-line order for a sewing notion that Gail was using over the weekend. And when I was cleaning up my file system (I do it once a month) I also ordered a pattern that I'd seen on-line for a quilt I want to make for Gavin.
I'm running out of energy now so I'll revert to my knitting tonight.
January 18, 2019
I couldn't find a particularly suitable card for Will in my go-to book of blocks. Since I was short on time I decided to use a block I had made for another project that got halted after only a few weeks.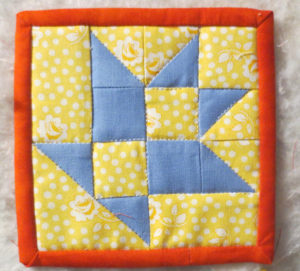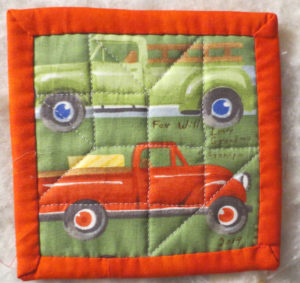 The front of the block didn't inspire me much so I added a backing that is more suitable to Will – who will be eligible to drive in just a year!
Friday, January 18, 2019
I'm in charge of lunch today (at our Thursday group mini-retreat) so yesterday morning I got a soup ready for the crock pot. I originally planned to just prep the meat but Pat suggested it might be easier to make the soup and then just heat it up in time for lunch. When the soup was cooking I boiled the eggs and fried the bacon for the spinach salad that I was adding to the supper menu last night. All of that took more of my morning than I intended so I was really scrambling to get strips cut for the log cabin I wanted to work on.
Jessie called just after I arrived at Gail's to say she had a wicked headache and was going back to bed. I took my Farmer's Wife along for Show and Tell as I had sashed the rows at several of our Thursday sessions. So I worked on my log cabin blocks until Jessie arrived around five. The ladies were very impressed and insisted it go up on the large design wall in Gail's studio.
As Gail looked at it more closely she saw a couple of blocks that she thought might have been put together wrong. No worries, in 111 blocks I didn't really care that maybe one or two weren't perfect.
But the more she looked at it she noticed that on two of the sides the last block in the row was missing sashing. How on earth could I have made that mistake? At first I thought I would just leave it but the more I thought about it I decided that I was going to have to fix it. I guess it's good that the error was found before I had it quilted.
I couldn't get to sleep last night for thinking about the quilt and I was awake again at five thinking about it. I've packed up my seam ripper and the fabric. I may tackle the problem today, although I might be better off doing it on my own rather than in a group.
Wednesday, January 16, 2019
Moreen and I went for another walk today and we may have taken it too far. She drove to the house and we walked from here down to Willingdon Beach – a relatively good walk. From there we walked the Willingdon Beach Trail (the Mighty Machine Trail to my grandchildren). But we didn't stop there. We continued on to see the sea lions out by the hulks and the mill. We could have turned around but we decided to carry on into Townsite. We wandered around the market that has recently opened (the one with the climbing wall). When it was time to go home there were no alternatives to going back the way we came. The last climb up the hill to home was tough but we kept telling ourselves it was good for us. We decided our next walk won't be quite so strenuous; we were out about three hours.
I needed to pick up some groceries so, while I was out, I made a drop at the High School on behalf of the Guild, picked up some keys at Cranberry Hall, mailed a letter and then got to the groceries.
I limped upstairs (I'm going to be sore tonight) and fixed the corner on my Farmer's Wife quilt. It didn't work out perfectly but I'm at a loss as to why not but it is better than it was and it is good enough.
After I peel some potatoes for supper I'll start getting ready for my sewing retreat starting tomorrow afternoon.
Tuesday, January 15, 2019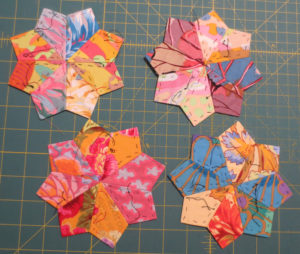 Today was the first time in three weeks that I've been at the Guild's sewing bee; it was lovely to catch up with everyone. I was hand stitching today – more work to be done on my Farmer's Daughter quilt. I'm not sure if I feel I've accomplished more by saying I've done four or by saying I've only got eight left. Regardless, the rest of the quilt is waiting for these little bits to be attached before I can say it is done.
I have one edge of my Farmer's Wife quilt that I want to take apart and fix. For some reason the setting triangles in that spot aren't fitting properly. I tried to stretch them out enough but when I added the top corner it looks "off". I'll recut the triangle, making it a bit bigger, and then it all should work out fine. It is only one block and one row I need to work on and I know I'll feel better if I do it properly. I asked some opinions today and I think using Mum's stitched tops for the back will work. I have no idea if the two pieces I have will be large enough, but if not I still have lots of Mum's fabrics so I can add to them.
I left the bee early today so I could attend a meeting at City Hall. There has been a situation created by the developer or maybe the property owners (the mayor just happens to be one of the developers and a property owner) but the end result is that it could raise our taxes significantly to fix the problem. It was a good presentation by the person who dug up all the information but, of course, no solution was put forward by Council. I stayed beyond that presentation and found it quite interesting. I left about 4:45 thinking Pat might be wondering where I was (he wasn't) but there were other items on the agenda I would have liked to have stayed for. I may go back again another time.
I might be able to finish my crochet project tonight – provided I ignore the pile of paper on my desk, items in my e-mail and the Guild blog that I should be writing.