Tuesday, April 25, 2017
I had everything ready for the bee this morning but it just didn't happen. I was awake about 2 AM with a headache and it took me almost an hour to go back to sleep. Around five the crows outside were raising quite a ruckus but when I got up to see what they might be upset about I couldn't see anything; they were certainly raising and lowering their voices in unison and, had it not been five in the morning, I might have been more impressed. Shortly after they calmed down I heard a loon, which is always a welcome sound no matter what time of day or night. When my alarm went off at seven I wasn't ready to get up; I lay there for about fifteen minutes and decided I'd get up, have my coffee and I'd probably feel better. The few minutes that I managed to stay up left me feeling even worse so I went back to bed and slept until noon.
I haven't had a bad headache for awhile but it was likely triggered by allergies. The worst time for me is Spring and, although I don't see any cottonwoods shedding, I know there is lots of other stuff in the air. There were quite a few women at the Retreat who were fighting allergies; if I get another headache relatively soon I'll try some allergy pills.
I've puttered around this afternoon and accomplished very little. I had a bit of cutting to do for the project I worked on yesterday so I finished a portion of that. I planned to drop a card in the mail this morning but since that didn't happen I got a few more ready for the mail tomorrow. The show that Pat is presenting on the weekend is already sold out (70 tickets) so I'll have to make a few extra treats for the Concession. I haven't even figured out what I'll make, let alone getting a list together.
Since no cards were done at the bee today I'd better get started on at least one of them now.
Monday, April 24, 2017
I went to bed early last night and had a good sleep so I was ready to start fresh today. I haven't accomplished a lot but I often don't on a Monday.
I generally start my Monday by planning my week. One of the bloggers I follow had a chart for keeping track of various things that I should be doing on a regular basis but don't seem to get at. I made a few adjustments to that chart today and printed off a few goals for the week ahead. One of those goals is some scrap management and I outdid myself in that category today. When I was getting ready for the retreat I emptied a couple of bins of scraps into bags and took them with me. This morning I sorted all those scraps into manageable bits – some were cut down into strips and squares, some were put into individual bags based on their colour. I have a basin for scraps sitting on my cutting table (the basin I bought at the garage sale a few weeks ago); as I'm cutting during the week the scraps go in there and I usually deal with them on Mondays. Even my basin has been cleared out so I can check off that goal for the week.
I created a couple of other categories that, at least for this month, are linked. I have a category for cards where I add the cards I need to do, as well as a Tuesday project category that I pretty much fill with cards. I have the patterns and fabrics picked for two cards, as well as a plan for three more. I cut the extra borders I need for for the quilt I worked on at the retreat and that will be the first thing I do tomorrow at the bee.
My Work-In-Progress category could stretch to pages, but I'm only adding one thing at a time to it. I hope this will help me focus on finishing something during my sewing time at home. I'm currently working on a rather new project that is a gift for someone so I can't spill the beans just yet.
Now, back to it!
Sunday, April 23, 2017
I had a wonderful time at the Retreat, but I'm exhausted. I didn't sleep well on Friday night, although the accommodations were fine and I even had my own little room in a cabin that slept 10 but we only put five into. At 2 AM I was still awake so wandered outside to the porta-potty (no bathroom inside the cabin) but that didn't help; at 3 AM I put on an extra sweater thinking maybe I was cold (although I didn't feel cold). I was awake again at 6 AM but stayed in bed as I knew the coffee wouldn't be ready until seven. Last night I slept much better and tonight I may fall asleep before my head hits the pillow.
Last retreat I was heads-down busy with Christmas cards and didn't participate in the Friday Night Project, which usually takes me Friday night and at least a part of Saturday morning to finish. Not only did I participate this year but I finished it on Friday night.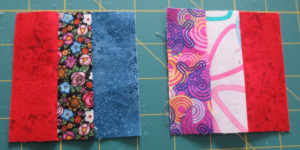 I finished off four cards (which I can't show you yet), but only two Leader and Ender blocks.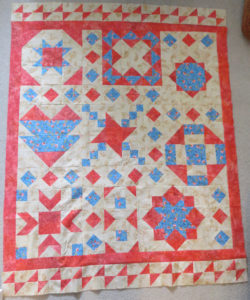 One of the UFO's I took was this Block of the Month from last year at the Guild. I made good progress but I'm not sure how much I like it. There are still some borders to add and, I must admit, seeing it in a photograph looks better to me than when I lay it out. Definitely not my colours. Are they yours?
NOTE TO SELF: Next year don't pack so darned much stuff.
April 21, 2017
Rick's (and Christy's) property has a lot of sheds and buildings on it, many of which are in disrepair. There are, however, two A-frame buildings in the back yard that I think would be perfect to keep chickens in.
Thursday, April 20, 2017
For the first time in what seems a long time I was able to get caught up on all my paperwork. My new office area and system worked well, except for the times when I popped up out of my chair to go to my filing cabinet that now sits right beside me. Although I don't have any extra room for sorting papers on my desktop, the cutting table is within arm's reach so I can sift through the piles as I need them.
I did a bit more shopping today. Before heading "up the lake" I wanted to get a set of jumper cables for the car. The car has been running fine, but I'll be too far away for help should anything happen at the retreat. I also picked up a flashlight to keep in the car – the set of jumper cables I was going to buy had an LED light included with them but when Pat looked at the reviews that particular design was more expensive and had quite poor reviews. The set I purchased had good reviews, were cheaper, and came in their own little storage bag. Fingers crossed that I won't have to use them (but I have the instructions on my iPad should the need arise).
Two films in the space of a day (one last night and one this afternoon) makes me think we're back in film festival season. Last night's movie was a one-time event and since I have a Guild demo tonight we had to go to the Cinematheque movie this afternoon.
I have a few more sewing things to pack up and then I'd better pack some clothes!