Monday, February 19, 2018
Peggy and Barb (Elliott) came across on the noon ferry today for a visit. I originally thought lunch at a restaurant with a balcony view might be nice but with a temperature of -6 this morning I quickly decided somewhere warm would be much better. After lunch we came back to the house and chatted the afternoon away – we even had tea in the "good" china! Thanks for coming across ladies.
Sunday, February 18, 2018
I haven't checked in since we were preparing for our House Concert, so let me tell you that it was wonderful. It is performers like Janelle (Nadeau) who make me think I should say yes to another season. Don't hold me to that though as there are lots of concerts left before we make that decision. Not only was the performance once of the best we've had, but Janelle was such a wonderful guest.
There were four Film Festival movies scheduled for Saturday but Pat and I only made it through two of them. The first movie was a 1 PM and the second was at 3 PM; we had to clear the theatre between the shows and then be checked back in so the second film was late starting. And although there was a bit of a break before the next film and reception at 6 PM there wasn't enough time to go for dinner anywhere, and popcorn just wasn't going to get us through. So we decided to come home and enjoy a quiet evening. I was in bed by nine and had my light out by 9:30.
We woke up to a bit of snow this morning but the sun is shining now and there isn't much left. Even so, I didn't feel at all odd listening to Janelle's Christmas CD while I puttered around in my studio. Pat flew out to Vancouver this morning; he'll be teaching all week. I've done five loads of laundry today – how did that happen? I have a busy week ahead so it is good to get it done sooner rather than later.
I feel like it might be another early night but I have a bit of tidying up I want to get done before I stop for the day – company's coming tomorrow so I need to make a good impression!
There were four films on the schedule, but we only made it to two of them; we were just too tired to go out for the evening movies.
Meet Beau Dick: The Maker of Monsters
A documentary about the acclaimed Alert Bay artists Beau Dick. While well-known for his carvings of masks, the film also highlights his activism on behalf of First Nations and the environment.
The City Before the City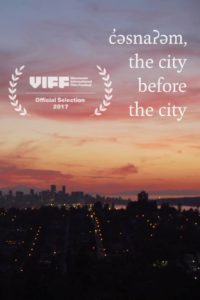 This film documents the struggles of the Musqueam First Nation in their fight to gain control over their ancestral lands through the area now claimed by the City of Vancouver (and parts of the Greater Vancouver Regional District) and particularly over an area where ancestral remains were discovered prior to the building of a condo development. A 200-day vigil was held at the site in 2011; I am ashamed that I don't remember hearing anything about this.
Although we were preparing for a House Concert tonight I had time to slip away for a bit this afternoon for a movie.
Meditation Park
Set in Vancouver we meet a Chinese couple, their daughter and her family as they gather to celebrate the husband's 65th birthday. We soon learn there is an estranged son but we never meet him. When Maria discovers her husband, Bing, is having an affair the rest of the film deals with how she evolves from a loyal Chinese wife and mother to a woman who is a friend to her neighbours and discovers how to follow her own path. One comment in the film describes the "box" she was in at the beginning of the film – when we are young we have to obey our fathers, then when we marry we must obey our husbands. When our husband's die we must obey our sons.