November 30, 2017
Mum did so much knitting for us, our families, her grandchildren and several charities that this year I'm dedicating my donation knitting to her.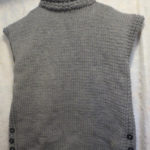 Last August, right after I finished the Axel Pullover for Taylor, Christy decided she wanted one too. The pattern came in about a dozen different sizes so it was no problem. I had to order the yarn from online as none of the stores I looked in while I was in the Lower Mainland had enough of it in stock.
I knit the sweater and then decided it was going to be miles to big for Christy. So I took it all apart and knit it again, this time in a smaller size.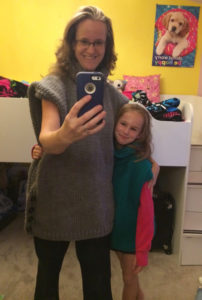 I was thrilled to receive this photo from Christy with both her and Taylor wearing their sweaters.
December 30, 2016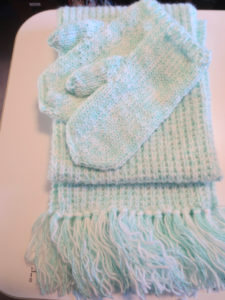 When we got Christy's Christmas list she said she wanted a scarf. I asked for more details and she mentioned that "one that Mum makes is always the best (and my jacket is green)". I didn't plan this as a Christmas gift but when I finished it there was still lots of time to get it under her tree before Christmas.
December 2, 2016
I've been trying to clear out a bin of yarn so I made this set. It has been sent to Elizabeth, along with another pair of mitts that I neglected to take a photo of.
The mitts are knit with a double strand of the yarn – the better to use it up! The headband is a seed stitch and I designed the scarf pattern myself.
I had just enough of the peach to make up a scarf and a pair of mittens for a small child; that set will go either to BOND or the Salvation Army.