February 14, 2018
I didn't really plan to make Valentine cards this year; I was going to use an e-card for my family. However Deloise inspired me with a card she made and I thought I should do a few as well.
The patterns I used are all ones that I had admired over the last few years and this was a chance to make some of them. Although I took apart the one on the right a couple of times I think I could improve on the pattern by extending the heart shapes to the border on each side.
Stars are a favourite design so I couldn't resist this one that included a heart. I see now that I should have had all those background hearts heading in the same direction.
I made a table topper for Pat's Valentine, and not only because I wanted something to display at our upcoming House Concert on the 16th.
January 18, 2018
As I looked through my Splendid Sampler files for a pattern that would be suitable for Will this seemed like the perfect one to pick – Birthday Cake!
All of my embroidery floss is on Texada (and I don't want floss both here and there) so I used a machine stitch for the curly-cues.
January 10, 2018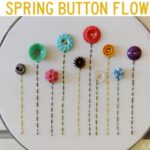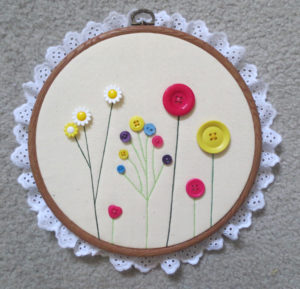 I saved the photo on the right from somewhere online as I thought it looked interesting. When I was looking for a pattern for Taylor's card I came across the photo and decided to add my own spin to it.
It was fun to make. I've never used a hoop as a frame before, although I've always really like the look of it. It wasn't as difficult as I thought it would be so I'll try it again sometime.
At one point I thought the hardest part was sewing on those tiny buttons; as it turned out it was harder to get the frame around the piece.
January 4, 2018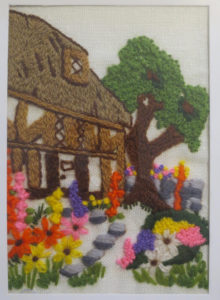 This small stitchery was started, and mostly completed by Mum. When I moved all my cross stitch and embroidery projects to Texada I got a better look at which ones would be easy finishes, and this was the first that I tackled.
I did the framing myself. It fit nicely into a 5″x7″ frame.
September 30 (September 6), 2017
Jackie and Roberta's birthdays more or less bookend the month. I was way too late to get Jackie's card out for her birthday, and I doubt whether or not Roberta's will arrive on time.
However, I wanted to acknowledge each of their birthdays. The block is a modified Circle of Love from The Splendid Sampler series.