The first weekend we spent at the studio on Texada we had a table but no proper chairs. I also noticed the lack of placemats when we ate our meals. I have two sets of placemats (4 in each set) at home but we sometimes need more than four at a time and the two sets are matched enough that they can be used together. That meant I needed to get busy and make a new set.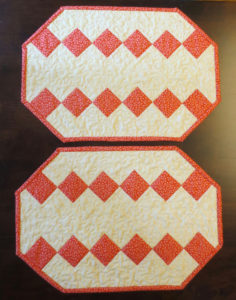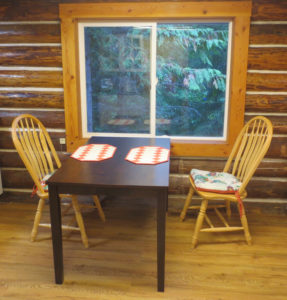 I had the orange fabric left from another quilt project so I thought I could use some of it up and we'd have a fall theme for this time of year. The pattern is called Fine Dining and it gave me a little trouble. It is set on point and I have a lot of trouble getting things to go the right way and put together in the right order but I managed. Although the placemats don't exactly match the chair cushions I'm okay with it.

Also on our first trip over we had plastic bags collected and no where to put them. I whipped up this simple bag holder and it is serving us well.
Oddly enough, this piece wasn't actually from my collection (yes, I now have a collection) of Canada 150 projects. It was the Fibre Expressions' (from Sechelt) contribution to the 2016 Row by Row Experience. I've never made it into the shop but from the moment I saw the pattern I knew I wanted to make it. By the time the "Experience" was pretty much over for the year I still hadn't been able to pick the kit up. But the shop was one of our vendors at Hands Across the Water so I made sure she was bringing some for her booth. As it turned out we were in Portland at the time of the event so I missed it again. But after November 1st you were able to purchase the kit without actually being in the shop and that's when I was able to get mine.
When we started planning for the Cranberry Lake 75 Celebration (with its Canada 150 component to nab some of that funding) I told Pat I would make it to hang in the Hall. When I finally got around to getting it added to my "Must Get At It Now" pile I couldn't find it anywhere. When I did finally locate it, in a totally unrelated bin, I realized it was too difficult to take to the Island when we had our week there.
So the pressure was on to get it completed in time. The piece was much harder to do than I thought it would be; the tiny letters and getting the staff lines on were challenges. I think I traced the pattern about four times before realizing that if I was using a Frixion pen I couldn't trace everything and then fuse the pieces in place without losing all my lines and having to trace all over again. Were I to do the pattern again (and I won't) there are a lot of things I would do differently.
Once it was together I wasn't sure how to go about quilting it. I needed to use white between the black staff lines but those white patches were interrupted with black stems to the notes. So each white section was done separately. By the time the white quilting was done I noticed the maple leaves were already coming unstuck from the backing so I very carefully used my free-motion stitch to go just inside the borders of each one. The red section was easier but I was concerned about the red quilting over the black letters. I had a black fabric pen that I thought I would use to cover the red stitches but once it was finished I decided the red hardly showed and didn't bother.
This will hang above the piano in the Cranberry Hall, and probably on the staircase at home.
I bought the pattern for this quilt at the Grand Opening of Deb's fabric shop – probably two years ago! She was selling the pattern (with fabric) as a kit but I didn't like any of the colours so I was able to pick my own fabrics. I made the quilt a bit larger than was called for by adding extra borders.
For a long time this was to be my Sashiko quilt because I wanted to quilt it using sashiko patterns meant for machine quilting. When I got down to the quilting though the patterns were just too small to use within the blocks so I had to change plans.
I need to remind myself that quilting on a heavily patterned fabric doesn't show. I spent almost three days mapping out lines, stitching them and then tying in the ends only to realize that it really doesn't show unless you are looking at it close up. I was smarter for the rest of the quilting and just did a meander.
I didn't think the border fabric worked well with the backing fabric so I used a two colour binding.
The Guild Challenge (2016-2017)
From a list of 35 specific song titles we were to make a quilted wall-hanging based on one of them. The musical note fabric was included and had to be easily recognized on the front of the quilt.
"The Sound Of Silence"
Hello darkness, my old friend (Black Border)
I've come to talk with you again (Words)
Because a vision softly creeping
Left its seeds while I was sleeping
And the vision that was planted in my brain
Still remains
Within the sound of silence
In restless dreams I walked alone
Narrow streets of cobblestone
'Neath the halo of a streetlamp
I turned my collar to the cold and damp
When my eyes were stabbed by the flash of a neon light (Whirls)
That split the night
And touched the sound of silence
And in the naked light I saw
Ten thousand people, maybe more
People talking without speaking
People hearing without listening
People writing songs that voices never share (Challenge fabric)
No one dare
Disturb the sound of silence
"Fools" said I, "You do not know
Silence like a cancer grows (Pink Ribbon)
Hear my words that I might teach you
Take my arms that I might reach you"
But my words like silent raindrops fell (Raindrops)
And echoed in the wells of silence
And the people bowed and prayed
To the neon god they made
And the sign flashed out its warning (Warning Sign)
In the words that it was forming
And the sign said "The words of the prophets
Are written on the subway walls
And tenement halls
And whispered in the sounds of silence"
I don't know if this is a gift for Diane or for Brian – either way they were both in my thoughts as I worked my way through this project. I would have liked to have had this done for Diane's birthday but it just didn't happen. The next probable date, although I missed this one too, was the anniversary of her death. I prefer to celebrate a birth rather than a death so this one got finished in its own time.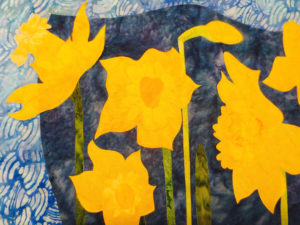 The pattern looked like it should be simple but I found it to be quite a challenge. The pattern pieces were spread over three pages so I had to do a lot of cutting and taping to get a continuous pattern for almost all the pieces. The directions for quilting were minimal and even then I didn't follow them exactly.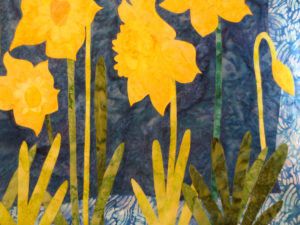 The pattern is listed as an "Art Quilt" so I should have known better right from the start!