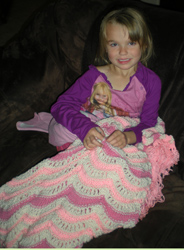 On a recent visit to Calgary I gave one of my granddaughters a quilt. It didn't seem right not to take something for my other granddaughter, but I didn't have time to make her a quilt. I thought that an afghan would fit the bill – not a quilt, but at least a blanket. Pink is her favorite color and it is lovely to have a stash so that I can make an afghan using only what I have in my bins. Even after making this, I have plenty of pink left!
I cut out a Hallowe'en pattern in a magazine quite some time ago, and I was surprised I was able to find it when I went looking (not all my "saves" are where I think they should be). I incorporated a few changes of my own into the pieces, and the finished product really isn't very much like the original pattern (but we all get our inspiration for somewhere).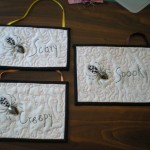 The spider shape is done in embroidery, and the spider's head is made from links of an old bracelet of Mum's. The body of the spider has sequins sewn on for a bit of a shine. I added the names myself.
The piece originally was to fit into a photo frame, but since I've started quilting I now see everything as a possible quilting project. The pieces gave me another chance to try my hand at free motion quilting.
When I was expecting my second child my sister made me a crewel embroidery with this verse.
Cleaning and scrubbing can wait till tomorrow
But children grow up I've learned to my sorrow.
So quiet down cobwebs; Dust go to sleep!
I'm rocking my baby and babies don't keep.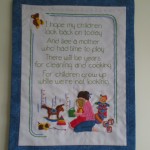 I purchased this companion kit many years ago and when my third child had her third child I thought it was the perfect time to dig it out and get it done. It was years in the making but, once I retired, I really made an effort to get it done for Elizabeth's 30th birthday.
Of course there were "issues" when I made it. I ran out of wool for the verse so had to start all over on that portion with embroidery thread (thanks for the suggestion Diane). Once I finished I realized framing was going to be a problem because we don't have a Michaels or U-Frame-It location in town. I needed to learn how to miter corners for a quilt project so I started small by self-binding the picture much like I would a quilt.
I purchased this pattern when we visited Victoria in the summer of 2011. I had no immediate plans to make it, but when we decided to travel to Saskatoon to spend Christmas with Kathryn and Dave I decided I should make it for them.I enjoyed the appliqué on this project – the big pieces were much easier to work with. I particularly liked the fabric I used for the outside border.
I used invisible thread (I won't another time) to stitch around the edges of the appliqué and through the petals and leaves to stabilize the piece. I also used invisible thread to stitch in the ditch on both sides of the green inner border. I quilted the center using a meandering loop pattern, and I used a piano key border stitch for the outside.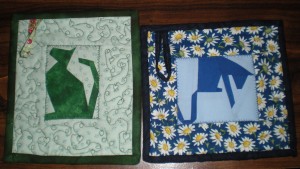 These pieces were the first blocks I made when testing my theory for making "The Cat Came Back" quilt. They were pinned to my design wall but I wasn't sure what I would do with them. When we visited Elizabeth in November she mentioned that she needed potholders. Voila – they now had a purpose and a home. I quilted them after my first set of free motion quilting classes. The centers are framed using a stitch-in-the-ditch method and one of the decorative stitches on my machine. Elizabeth received them for Christmas 2011.