Saturday, December 9, 2017
I've been at it all day and I have almost all of my packages wrapped and ready for the mail. I've completely run out of energy though so I'm calling it quits. I will have time tomorrow to finish up the wrapping so I can be at the post office first thing on Monday. I'll have quite a collection of parcels so I made need to take two or three trips from my car to the post office. I heard today that Monday is the last day for mailing parcels at "regular" rates – whatever that means – so I expect there will be line-ups.
Many years, when I'm this far along with wrapping, I break out a bottle of something festive. I think it is a sign of my age because I think rather than a festive drink I'm going to go have a nap!
Friday, December 8, 2017
It has taken me all day but I finally have everything I need to start wrapping gifts for the mail. All the shopping is done – online, in Saskatoon, and locally. All the stitching is done – at home, in airports, and on Texada. I feel like I'm really late getting this done and, as I do every year, I vow to start earlier next year.
It was a real treat to be at home all day – it doesn't happen very often. We've spent some time looking at the calendar and trying to decide when we can get over to the studio again. Surprisingly enough it is Pat who has more on the schedule next week than I do.
The last time I left the studio I mentioned to Pat that I would like my sewing/crafting space in Powell River to be as tidy as the room I have on Texada. That will take a lot of work but I'm determined to try to make it happen – starting with putting away all the scraps and miscellany from my Christmas sewing. My new desk is the only space that I'm able to keep clear on a consistent basis!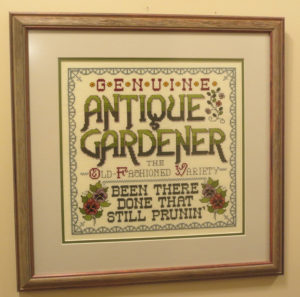 I don't know how long ago I purchased this kit. It was started "way back when" but I didn't finish it until earlier this year. It was originally intended for Dad but wasn't finished before he moved out of his house. I set it aside and lost interest in it. But joining some Facebook cross stitch groups got me stitching again and I finished it up.
This will be gifted to a friend in the Lower Mainland; Pat will take it to her when he goes down to do some consulting work in January. Heather has worked for many years with the Glorious Organics Co-op as well as with Farm Folk City Folk. And yes kids, Heather is the one who put the flowers in her salads! There is no one more suited to this than Heather.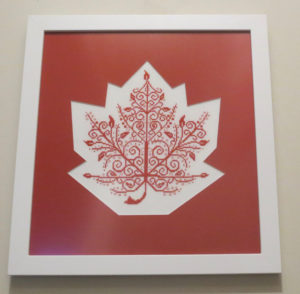 I got my Canada 150 project back from the framer today.
I first saw the pattern on one of the cross stitch Facebook groups I belong to. It was surprising how quickly it went together. With only one colour of thread, and very little backstitching, it was done several months before I managed to get it in for framing.
We don't have much wall space for hanging anything at the house but I may be able to find a spot in the studio for it.
Thursday, December 7, 2017
It took all morning to finish my Guild work for the meeting tonight. Our website is a freebie and therefore comes with size restrictions. Although we aren't entirely out of space I decided (for some strange reason) that today would be a good day to archive some of the pages and photos. I'm not sure what I'll do with them now that they are off the site but I'm thinking maybe some sort of binder with the "old" stuff. I'll check with the person who does the Archives, although she doesn't really do anything with her photos either. It will involve lots of work but perhaps I can do a little each week/month when I'm on the site anyway.
After lunch I went out to run a few errands; dropping some Cranberry Hall membership cards off and making a bank deposit. I did a bit of Christmas shopping and I think I'm done, unless I've forgotten someone or something. Don't get me wrong, I'm not DONE DONE as I still have a bit of sewing and stitching to finish up. I'm hoping to get a few packages ready for the mail tomorrow though and have everything ready by the end of the weekend. No Texada trip for me this week.
I'm going back to my sewing until it is time for supper.