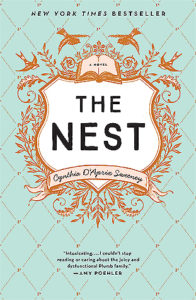 The four siblings in the Plumb family are anxiously awaiting the 40th birthday of the youngest. That date triggers the release of their trust fund (their nest egg, lovingly called The Nest). But when the eldest is involved in a scandal the nest egg is almost emptied to keep the involved parties quiet. As the other siblings realize they will be in reduced financial circumstances they scramble to either recuperate their loss or work out their financial difficulties in another way.
Goodreads Rating * * *
Wednesday, December 6, 2017
Although I wasn't able to find the patterns I was looking for last night, I think we all knew I wasn't just going to pitch the cross stitch pieces (partly because Mum stitched them and partly because I'm too cheap to waste an almost-done project). The back stitching might not be exactly as it should be but I think it is adequate enough to highlight the pattern. There is one more to do and I'll get to it soon.
I started my morning by working on reports for our Cranberry Hall board meeting tonight. I had kept up with things quite well during the month so there wasn't too much to do. I didn't have anything on the "Action Required" list; I usually forget about any of my action items until the day before the meeting and then I scramble to get whatever they are finished so I can report on some progress. After the paperwork was done I started back into my Christmas sewing. I have only a few items left on my list but I really want to get everything done and in the mail by early next week. I was working on a new pattern this morning and I've just finished it now. Hopefully the repeats I am making will go a bit quicker.
This afternoon I signed up for a class on how to make drier balls; the local wool shop was offering the class for free if you purchased the yarn. I needed to have 100% wool, which I had at home, but since they didn't release the supply list I couldn't take any of my own. They are quite easy to do and, in addition to my wool for the balls, I also purchased some red and blue roving (to spice them up a bit) and some felting needles. I've always been interested in needle felting so I think these supplies will work for more drier balls as well as other projects. I threw the one ball that I made into the washing machine with a load of laundry when I got home; the hot water is meant to felt it. It is ready to go into the drier now so I'll soon see how it turns out.
I'm going back to my stitching before heading off to the meeting.
Tuesday, December 5, 2017
It's been awhile so it was good to be back at the bee today and I accomplished quite a bit. I had one complete project to do and I didn't think it would take long, even though it involved a zipper. I was congratulating myself on how well I managed putting the zipper in when I realized the instructions mentioned top stitching the lining. I had neglected to attach the lining with the zipper so everything had to be taken out again. Thank goodness I had someone to ask questions of and I managed to get it done before noon. I started on a collection of ornaments based on the English paper piecing I did while on my trip and at Texada this past weekend. Although I don't have them all done they seemed quite quick to put together so I'm confident I'll have them done with time to spare.
Before heading to the bee I wanted to get a package mailed so I was at the post office shortly after they opened. There was a small line-up when I arrived but I didn't think that was unusual. What was unusual was that the clerk had a phone attached to her ear; she had been on a support call for 45 minutes as their computer system wasn't working. The woman at the front of the line finally decided to bring her packages back tomorrow. The next two people in line needed stamps so they were able to deal with them manually. I had a bubble-wrap envelope to purchase and mail and I decided I'd buy the envelope and come back tomorrow but, since the package was small, they were able to send it as a letter and could do it manually. Fortunately the package has lots of time to arrive at it's destination so it should be good. I admire the patience of the women who work behind the counter at the post office; they never rush you and they never seem to be in a flap no matter what the situation.
Last night I dug through my patterns and imagine the happy dance I was doing when I found the leaflet I was looking for. And then imagine the let-down when I realized the patterns I was looking for weren't in that particular book. I have a feeling the patterns might be part of a Precious Moments collection; I know I have at least one of those books and I'll search through my patterns again. If I don't find what I'm looking for I'm going to get rid of the half-done projects and start over. I had hoped to have them done for Christmas but it isn't looking too promising at this point.
Monday, December 4, 2017
It was a busy weekend on Texada; when I mentioned that to someone I was told that "every weekend is like this one"!
We had dinner at the restaurant on Saturday before heading off to the play. As I waited for Pat to pay the bill our waitress called me by name saying she hoped I enjoyed the show. I was surprised that she knew my name but Pat later admitted that she had asked him. If we are at the studio together we often go out for dinner one night and Pat often goes when he's there on his own; the same two people are always working. The play was what you might expect from a local theatre company; I think had we known the people on stage we would have enjoyed it more. They started the show early on Saturday so Powell River folks could catch the ferry back; I was surprised at how many Powell River people were at the play. As we were leaving I said to Pat that it was nice to go out for dinner, see a play and be on the way home by 8:30!
We hosted a little soiree at the studio on Sunday. Our neighbour, Jaimie, wanted Pat to meet his brother so we invited them all over for coffee in the afternoon. We also have a new neighbour just at the bottom of our hill so we invited Bev to join us. There is still one set of neighbours that we haven't met but I'm sure we will at some point – one or both of them are musicians. Pat likes the idea of knowing our neighbours as they will keep an eye out for us when we aren't there.
Sunday night the coffee shop was hosting a tree lighting in Van Anda. We had coffee and hot chocolate before going outside for the actual lighting (which took about five minutes). They had a piper playing but he didn't know any Christmas songs; after the tree was lit we went back inside for some carol singing. The tree is lovely but it was overshadowed by the moon; a full moon in a clear sky that was pretty much directly above the Christmas tree.
My stitching wasn't as successful as I wanted it to be but I had enough to keep me busy in my free time. I got the binding stitched down on three gifts and moved on to some knitting. I wasn't very far along before my needle broke; I taped it together but the stitches weren't sliding over the tape very well so I gave that up. I wanted to do some back stitching on some pieces that Mum had started but I couldn't find the pattern; I attempted to "wing it" but realized it wasn't working. I looked at images online and found the name of the leaflet the pattern came from so I'll have to go through my books to see if I can find it. I may have already gifted it to Emma thinking I wouldn't need it. Thank goodness I took my English paper piecing project with me. I got all my little pieces stitched together and even managed to get some of them appliquéd to the background.
I came home on the afternoon ferry today and now I need to get busy preparing for the bee tomorrow.
Saturday, December 2, 2017
There has really been no reason for me not to post from Texada – I guess since it feels so much like a holiday when I'm here I don't think to do it.
The show last night was just short of a sell-out – Oliver Swain was performing and he had a local musician opening for him (it's like the big time having two acts in one show). I ended up helping to take tickets before the show; after the show I helped with dishes then did the rest of the clean-up (sweeping and cleaning bathrooms). In order to get us home before midnight Pat got out the mop and bucket and washed the floor.
We headed over to Texada on the 9:30 ferry this morning so we had time to unpack and settle in before heading out to a craft sale at the Legion. I saw lots of people I know from quilting both in PR and here on Texada. Pat also saw a couple of people he's met here so it feels like home.
I got my bindings hand stitched this afternoon and moved on to some knitting. We're off tonight to see a play written and performed by a local theatre group. We've heard it is funny but I wonder if you have to know the actors to really find it funny.