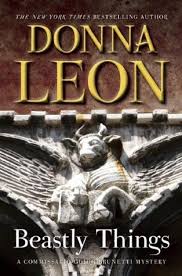 This author has a number of books based on the character Commissario Guido Brunetti; I just read that this is #21 in the series. The books are set in Venice and except for that fact I probably wouldn't read them. It's fun when I come across a scene set somewhere that Pat and I visited when we were there.
This is an easy read, and you don't really need to have read any of the others in the series to know what is going on. I've read a couple but they weren't in any particular order.
Tuesday, October 10, 2017
I headed out in the cold and the rain this morning and came home in the sunshine (but still cool weather). It is clouding over again and I expect there will be more rain before the day is done.
There are two on-going monthly projects at the Guild this year and I decided that I'd spend my bee days working on them. The scrap bag block was pretty easy; the bag I pulled already had all the pieces stitched together and all I had to do was cut it down to size. I doubt next month will be that simple. So I was on to the Row by Row for October. It is a combination of paper piecing, regular piecing, and lettering. I've done a lot of paper piecing so I thought that would be the easy part.
I had lots of fabric for the four blocks I needed to paper piece but on every one of them I cut off either the corner or a seam line. I didn't start over but added a piece of fabric where I was missing something. As long as the felt pen covers up the stitching I'll be okay, but they certainly weren't my best effort. The rest of the block is pieced but I need to do the lettering first. The designer (someone on the Program Committee) didn't provide a pattern for the letters – she drew them on the fabric and then did a satin-stitch to fill them in. I'm terrible at satin stitches (I know it is me and not my machine) so I'm going to try to figure out a different way to do it. Right now a felt pen is leading the idea board!
I didn't plan to attend the demo this month but since it is the day before our Community Quilt weekend I decided to sew on Thursday so I'd have a good spot for Friday and Saturday. I picked up the supply list today and I'll need a zipper so I'm already concerned! Not about finding a zipper but sewing it into the project!
Thursday is another hand stitching day but before I can do the hand stitching on my project I need to do a bit of machine sewing. That's what I have on my agenda for this evening.
Sunday, October 1, 2017
By the time Pat got home, just after noon, I had pretty much finished all my cleaning. I have a few things left to do but they are things I usually take care of on the morning of the concert anyway.
I think my cleaning in the laundry room made the biggest, most noticeable difference. We had a couple of extra boxes to hold empty wine bottles but I repurposed them to hold more items we need to take to Texada (the studio). On our last trip to Costco we purchased some large bottles of cleaning supplies and they were taking up a lot of room on the floor; I've found a home for most of those items. I had a container of fabric softener that went "bad" (yes, they can go bad and thicken and become unusable) so I took some time today to empty out the sludge and recycle the container. That left a bit more room on the shelf and I was able to move a couple more things off the floor. I decided that I probably don't need two pairs of sandals on the shoe rack, and I think for the foreseeable future my garden shoes won't be getting much wear; they are all put away in the closet where they belong.
The back step was also due for a tidying up. We had two canvas, fold-up chairs left from some event we took them to this summer, as well as the boogie boards Madison, Emma and Gavin played with this summer. They are sitting outside the shed door but once I find the right key for the shed I'll put them away.
Our first bit of work after Pat got home was to get my car going. We dug out the jumper cables, called a friend to verify we were doing things right, and got the vehicle started. I let it run for an hour to charge up the battery. I shut it down and restarted it (with fingers crossed) and everything turned over fine. I waited a bit and then restarted it again but I think I might take it out for a bit of a drive this evening.
I haven't got much further on my quilting and I've given up trying to get the project finished for our Guild meeting – one step in NOT setting deadlines for myself. With that off my schedule I downloaded a pattern today for a table-topper that I'll do in Hallowe'en fabrics. I was thinking it would be a good candidate for our miniature meeting this month but I've just remembered we are only doing that every second month so nothing is due until November; surely I can get it done (and used) by then!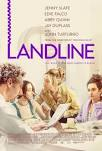 The basic theme of the movie is that a husband is cheating on his wife and when his daughters suspect him they wonder if they should tell their mother.
The actual story is much less about the husband and the wife, or even about what the daughters are doing about the affair. To me, that part of the story wasn't done very well. What I did like though was the interaction between the two sisters.
The movie is set in the '90s but I'm not sure why. There was nothing in the story that necessitated going back that far in time. There were no cell phones in the film but the landline telephone really didn't play any part in the story.
Wednesday, October 4, 2017
I spent most of the day working on Cranberry Hall and Guild reports; the Cranberry Hall meeting is tonight and Guild is tomorrow. I thought I'd get all the reports done today because I need some time to pack for our weekend trip to Texada. You'd think we'd be almost done moving things across but each time we come back we have a list of things we need to bring, and as we are packing for the next trip we think of more things that would be useful over there.
This time around I'm going to take one of my sewing machines. I still don't plan to do a lot of quilting over there but I've joined the Texada Guild so if I'm going to show up at the sewing sessions I need a machine. They meet in the basement of the Legion on Monday nights and I don't think they have any business meetings. The bonus is they meet in Van And a so no long drive in the dark.
My e-mail has been acting up this afternoon so I'm about to start a chat session with Telus so I'd best pay attention to that screen. We're off to the movie tonight, provided the Board meeting doesn't take too long.