There were four films on the schedule, but we only made it to two of them; we were just too tired to go out for the evening movies.
Meet Beau Dick: The Maker of Monsters
A documentary about the acclaimed Alert Bay artists Beau Dick. While well-known for his carvings of masks, the film also highlights his activism on behalf of First Nations and the environment.
The City Before the City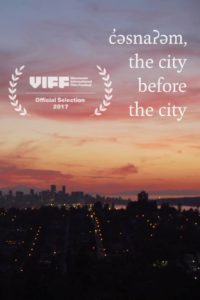 This film documents the struggles of the Musqueam First Nation in their fight to gain control over their ancestral lands through the area now claimed by the City of Vancouver (and parts of the Greater Vancouver Regional District) and particularly over an area where ancestral remains were discovered prior to the building of a condo development. A 200-day vigil was held at the site in 2011; I am ashamed that I don't remember hearing anything about this.