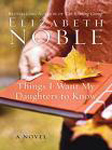 I saw the book in the bookstore on one of our trips to Powell River before we moved. A long time after that trip, when I was going through my journal, I found the title and ordered it from the library. The story is about a family after the death of the mother at an early age. Before her death she left notes and a journal for her daughters and husband. There are a few surprises for everyone.
Christy originally asked for a soft yellow scarf and I had some lovely wool that was exactly the right colour. I think it originally came from Pat's Mum.
The scarf pattern used a condo stitch so it knit up very quickly. The condo stitch is basically a garter stitch (knit every row), but every second row is knit on a much larger needle. That's what gives it the lacy look.
When she added mittens to the order I had to change the wool. Thankfully in my bins I had some perfect mitt wool in a shade of yellow. The mitts were knit on two needles as I was having problems with my usual four-needle pattern.
It took  several tries to get the sizing right on these mitts. I've made a lot of mitts in my time, and when I started getting materials out for the project I remembered that I used my set of four yellow needles. Kathryn had asked for gray mittens so I pulled out the only gray wool I had. After following the pattern for several inches I knew that the size was too small.
I went back to my bins to find some heavier wool (even though it wasn't exactly gray) and started over with the same pattern. Again, after several inches, I knew I didn't have it right  and I gave up on the project. In the meantime I made a pair of mitts for Christy using a two-needle approach.
Not wanting to give up I went back to my bins and found a different set of four yellow needles in a larger size. I don't have many sets of four needles and I was surprised to see I had two sets in the same colour. This time I adjusted the pattern I  used for Christy's mitts so I could make them on four needles.
The wool I used was from a sweater Mum was making for Dad.
As part of the Timberlane Quilt Guild I am taking part in a Cookie Tin Exchange. Each member who is participating is assigned to a team. To begin the exchange we each made a block of our choosing, and provided the other members of our team a notebook describing what we were looking for in a finished project.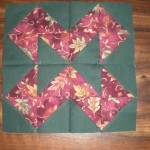 My challenge to the ladies in my group was to reproduce their first quilting block, or a block from their first quilt. My first blocks were made as potholders for my sisters. There is no question that I did a better job with these than I did my first time around.
Sunday, January 1, 2012
We had a slow start to this first day of the New Year. This morning Pat and I spent some time working on my new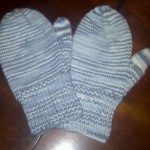 website. It is close to the way I want it to work, but there is still a lot to do and I'm learning as I go. We haven't even discussed how we will replace the old with the new, but at this time of year switching "old" to "new" doesn't seem impossible! I've done a couple of updates to my website that are available for you to see. I've updated my books and, thanks to Kathryn, I have a photo of the mitts I made her for Christmas.
Here's a story of a part of my day that had me smiling. In September Alex gave me a nice pair of earrings for my birthday. They are "danglies" and when I walk the two pieces sound like wind chimes in my ears. Late this fall when I came home from a sewing bee I noticed that I was missing one. I thought perhaps I lost it at home when I took my jacket off or unpacked my sewing equipment. I didn't find it anywhere in the house so I looked for the next few weeks at the Guild hoping it had been dropped there and someone had turned it in.
At Christmas when I was getting packed up to go to Saskatoon I wished that I could take them with me. I know I had the discussion with myself about whether I should keep the one or pitch it. I'm so glad I didn't listen to that inner voice that told me keeping it was pointless. Today Pat found the missing earring in the dishwasher! How it got there, and how I didn't find it before is beyond me. I'm wearing them now and with every shake of my head I can hear them singing to me.
I spent a bit of time sorting through my scrap fabric this afternoon. My bin doesn't seem to be getting any emptier, but I am getting quite a collection of containers for the various sizes I am cutting. After about an hour I admitted that I was putting off doing the top stitching on my Cookie Tin Exchange block.
I wanted to try a different method for my appliqué. In the other piece that I did I used a zigzag stitch but my sewing machine book mentioned using a blind hem stitch for appliqué. When I dug into my sewing machine manual I realized that the blind hem foot is an additional foot I'll need to purchase. I've bought two special feet in the last month and I didn't really want to place yet another order. The next time I order from that company I'll get all the feet available and this won't keep happening to me. So I was back to the zigzag method but I think experience is improving my skill. I'm quite happy with the results.
A couple of the blogs that I follow have shown a comparison of their last year's "To Do" lists with their end of the year "Done" list. I didn't make any resolutions, but I did for a few moments think perhaps I could do publish a "To Do" list for myself for the year. My lists are very fluid and things get added and moved up and down on the priority list on a weekly basis.
I will tell you this much though. Next year I hope to finish four of the items that got removed from my Christmas list this year. I have plans for two quilts – one for Emma and one Community Quilt from all the scraps I'm cutting. Along with my regular volunteer projects, books, movies and website updates I think I'll be kept busy.