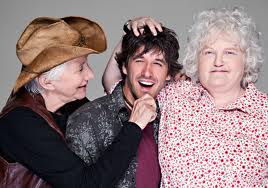 Do you ever wonder what might have happened if Thelma and Louise hadn't gone over that cliff? I think Dottie and Stella might be the answer. The two women have been together for 31 years. When Dottie's granddaughter tricks her into moving into a care home, Stella kidnaps Dottie and they head to Canada to get married. They even pick up a boy toy along the way! Certainly not your "Sunday best" language, but I agree with Pat that it is probably the movie Olympia Dukakis always wanted to make.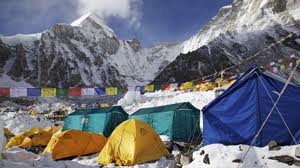 When climbing any of the summits of Everest, climbers must spend the full season (40 days) acclimatizing to the high altitude. I knew about the Base Camp but didn't realize that, for the time they are acclimatizing, they are making hikes up and down the mountain to and from Bases 1, 2 and 3. Their final climb is to Base 4 and from there they attempt the summit. Climbing the mountain doesn't interest me, but I bet the hike to Base Camp would be spectacular.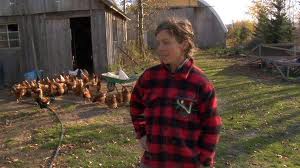 The story followed three sets of new farmers through one growing season. Two of the farms were in Ontario and one was in Manitoba. None of them had any farming experience, but their enthusiasm made up for it. The farms were all environmentally responsible and growing for the local food market. It made me want to dig!
Friday, February 17, 2012
We had a full day of films – our first film was at 9:30 this morning and we didn't finish until 10:30 tonight. I have to admit that it is nice not to have to choose between films the way we had to do at the Vancouver film festivals. Seeing all the movies in the one place makes it much more relaxing than rushing from theatre to theatre.
The Guild had a display of quilts in the foyer of the theatre and I worked a two-hour stint at the information table. I missed about the last ten minutes of the first film, and the first ten minutes of the second film but it didn't affect my enjoyment in either case. While I was working the booth I had a nice chat with a woman about the quilts and the Guild. When I mentioned that we also had an exhibit at the University, she said she was only in town for the day. What a surprise when she turned out to be the co-director of The Whale!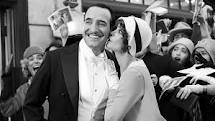 This movie has been winning awards all season, and is expected to win at the Oscars next week. The movie is shot entirely in black and white, and there is no sound other than the musical score. It tells the story of an actor, the star of silent films, and an actress, the rising star of the talkies, and the pressures that this monumental change in films has on each of them.