I cut out a Hallowe'en pattern in a magazine quite some time ago, and I was surprised I was able to find it when I went looking (not all my "saves" are where I think they should be). I incorporated a few changes of my own into the pieces, and the finished product really isn't very much like the original pattern (but we all get our inspiration for somewhere).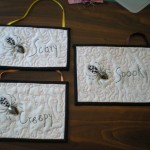 The spider shape is done in embroidery, and the spider's head is made from links of an old bracelet of Mum's. The body of the spider has sequins sewn on for a bit of a shine. I added the names myself.
The piece originally was to fit into a photo frame, but since I've started quilting I now see everything as a possible quilting project. The pieces gave me another chance to try my hand at free motion quilting.
When I was expecting my second child my sister made me a crewel embroidery with this verse.
Cleaning and scrubbing can wait till tomorrow
But children grow up I've learned to my sorrow.
So quiet down cobwebs; Dust go to sleep!
I'm rocking my baby and babies don't keep.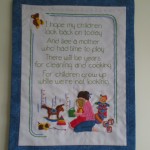 I purchased this companion kit many years ago and when my third child had her third child I thought it was the perfect time to dig it out and get it done. It was years in the making but, once I retired, I really made an effort to get it done for Elizabeth's 30th birthday.
Of course there were "issues" when I made it. I ran out of wool for the verse so had to start all over on that portion with embroidery thread (thanks for the suggestion Diane). Once I finished I realized framing was going to be a problem because we don't have a Michaels or U-Frame-It location in town. I needed to learn how to miter corners for a quilt project so I started small by self-binding the picture much like I would a quilt.
I purchased this pattern when we visited Victoria in the summer of 2011. I had no immediate plans to make it, but when we decided to travel to Saskatoon to spend Christmas with Kathryn and Dave I decided I should make it for them.I enjoyed the appliqué on this project – the big pieces were much easier to work with. I particularly liked the fabric I used for the outside border.
I used invisible thread (I won't another time) to stitch around the edges of the appliqué and through the petals and leaves to stabilize the piece. I also used invisible thread to stitch in the ditch on both sides of the green inner border. I quilted the center using a meandering loop pattern, and I used a piano key border stitch for the outside.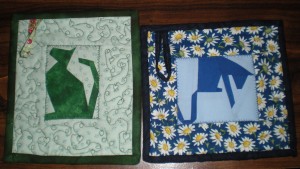 These pieces were the first blocks I made when testing my theory for making "The Cat Came Back" quilt. They were pinned to my design wall but I wasn't sure what I would do with them. When we visited Elizabeth in November she mentioned that she needed potholders. Voila – they now had a purpose and a home. I quilted them after my first set of free motion quilting classes. The centers are framed using a stitch-in-the-ditch method and one of the decorative stitches on my machine. Elizabeth received them for Christmas 2011.
Saturday, December 31, 2011
The year is drawing to a close in much the same way as the year began – we have a lovely sunny day outside.
I spent the morning working on my Cookie Tin Exchange block. It went together very quickly and I think it looks good – the stained glass effect came through as I had hoped. I still have the top stitching to do, but I want to play a bit with the stitch before I start on the real thing.
Another reason not to start in right away with the stitching was that my sewing machine bench was covered with things I took out of my sewing drawer yesterday. I wanted to sort through the few patterns that I have to see which ones should be kept and which ones should be given away. While I was sorting I found a couple of items that needed mending. I hate to admit it but they have been in the sewing pile for years.
After I sorted through the patterns I decided to take care of the mending before I changed the footer on my machine. I still have a blouse pattern that I cut out quite some time ago that needs to be sewn and I'll try to get that done fairly soon. I think I could make use of the blouse so I'll stitch it up and see what it looks like when it is done.
I spent some time this afternoon playing with my new website. There is a lot to move over from the current site, but there are some things I won't bother transferring (or I'll move them across later). We are still working on getting the layout on the new site the way I want it, so this is a project that will carry over into the New Year.
Pat and Trent (a new friend) are playing at a New Year's Eve dinner tonight. The deal they arranged with the owner of the restaurant also allowed for free dinners for Trent's wife and I. We have to be there early of course (for set up) but I don't think the plan is to carry through until midnight. Perhaps we'll be home in time for some of the New Year's celebrations on TV (our usual fare for New Year's Eve).
What are you doing?