Friday, February 3, 2012
The ferries were running today, but the planes were grounded due to fog. There wasn't much of a horizon when we opened the curtains this morning – the ocean and the sky blended together. The fog seemed to have cleared at our place by noon, but when I went to pick up Margaret I could see it lingering further up the hill.
Margaret finally got a date for her surgery. She will need a lot of trips to the hospital and doctor in the days leading up to the surgery, and the same on the days following. They will keep her in overnight (at least) and I'm glad of that. I couldn't imagine her having the surgery and then being sent home the same day. I have a few conflicts in my schedule, but I think I can make her appointments and my commitments all work.
I thought I would get started on my quilting today, but I got distracted. I had to run some checks on my machine tension so started some practice projects. And now I need to finish the practice projects before I can get started on the quilting. All this extra time is helping me make decisions about how I want to do the quilting. My plans have changed a few times, but I'm quite confident my brain knows what to do now. The questions is, Can I make my hands and machine do what I want?
We went out for dinner tonight and the fog has definitely descended again. We could see the moon overhead, but it is socked in at ground level.
Thursday, February 2, 2012
Is yoga for relaxation or a workout? I always felt it was for a good stretch and some relaxation, but that wasn't the case this morning. I think I'm going to be stiff tomorrow. At the beginning of the class she had us (in our minds) dedicate our practice to someone or something. I, of course, dedicated mine to my grandchildren so I'll be able to keep flexible enough to keep playing with them. Several times during the class she had us bring our focus back to our dedication. It's a good thing I made a dedication; otherwise I probably would have snuck out the door when everyone had their eyes focused somewhere else!
I had to pick Margaret up early today as she had a few things to do before our Red Cross shift. It was a quiet day in the Loan Cupboard and I only had a couple of calls to deal with. Margaret got her lab work done while we were there, and I'll take her to the doctor tomorrow to get the results.
I had a lovely chat with Diane this afternoon. Her birthday parcel finally arrived so we chatted about the contents and the crafts we are doing. I had a few minutes to sit and relax before dinner and then I was off to the Guild Meeting.
I took my Bench Cover for Show and Tell, as well as my Mystery Quilt. Normally I wouldn't take something until it was quilted and bound, but one of the ladies who took the class asked us to bring in our tops so we could show them at the same time. What a lovely bunch of flimsies. Mine was the only one sandwiched and ready to quilt. I avoided talking to Shawn so she wouldn't know that I haven't even set up my machine since I brought it back from her shop!
For many years Diane and I have passed "previously used" birthday cards back and forth for our birthdays. Diane even made a lovely album for us to keep all the cards in. Each year, on our birthday, we received the album to keep at our house until the next person's birthday. It was always fun to find the card in the album that was the one chosen for that year's birthday.
When Diane moved to Ontario passing the album back and forth was impractical so I became the keeper of the album. By this time we had both started to make hand-made cards of various designs so I added a couple of pages to the album to store these.
Diane has made some lovely cards for me over the years. My cards, on the other hand, were well received but not very lovely. And I realized that I wasn't even enjoying making them.
When I came across the pattern for a fabric postcard I knew my problem was solved. I practiced my string-quilt technique on this one, and added some ribbon and ric rac as embellishments. I used a muslin backing so I was able to write my birthday greeting right onto the card.
As always, Diane gets the first one!
I purchased this book, and picked this particular pattern for Diane, long before I started quilting. The two cups and two pots are very reminiscent of Diane and I. I gave the wall hanging to Diane when I visited her for her birthday in 2011.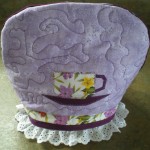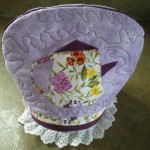 The challenge piece at Hands Across the Water was to make a tea cozy. I've never used a tea cozy and, at first, I thought I would skip the challenge. But then I remembered that I had extra material from the wall hanging, and I knew that Brian and Diane were tea drinkers so, voila, I had a purpose for my challenge. I gave the tea cozy to Diane for her birthday this year.
At the Guild wind-up barbeque in June 2011 someone made a couple of these and they were presented as door prizes. As soon as I got home I spent hours on the Internet trying to find a pattern. Along Came Quilting in Calgary carried the pattern and I placed my order.
Although the pattern wasn't difficult, it was fiddly and took me right back to everything I didn't like about sewing. I often said that if I hadn't cut out the pieces for three of them at the very beginning I probably would have only made one! I made two gluten-free slices (for Stacia and Deloise) and one Happy Birthday one for Diane.
I am so happy that Stacia has requested the pattern as I know I will never make them again and it is nice to share!