Saturday, December 31, 2011
The year is drawing to a close in much the same way as the year began – we have a lovely sunny day outside.
I spent the morning working on my Cookie Tin Exchange block. It went together very quickly and I think it looks good – the stained glass effect came through as I had hoped. I still have the top stitching to do, but I want to play a bit with the stitch before I start on the real thing.
Another reason not to start in right away with the stitching was that my sewing machine bench was covered with things I took out of my sewing drawer yesterday. I wanted to sort through the few patterns that I have to see which ones should be kept and which ones should be given away. While I was sorting I found a couple of items that needed mending. I hate to admit it but they have been in the sewing pile for years.
After I sorted through the patterns I decided to take care of the mending before I changed the footer on my machine. I still have a blouse pattern that I cut out quite some time ago that needs to be sewn and I'll try to get that done fairly soon. I think I could make use of the blouse so I'll stitch it up and see what it looks like when it is done.
I spent some time this afternoon playing with my new website. There is a lot to move over from the current site, but there are some things I won't bother transferring (or I'll move them across later). We are still working on getting the layout on the new site the way I want it, so this is a project that will carry over into the New Year.
Pat and Trent (a new friend) are playing at a New Year's Eve dinner tonight. The deal they arranged with the owner of the restaurant also allowed for free dinners for Trent's wife and I. We have to be there early of course (for set up) but I don't think the plan is to carry through until midnight. Perhaps we'll be home in time for some of the New Year's celebrations on TV (our usual fare for New Year's Eve).
What are you doing?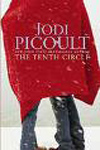 This is a good story about the rape of a young girl (now that is an odd sentence). This is a bit different from her other novels. The surprise ending is there, but it is part graphic novel and I didn't like that part so much. After many tries, I did manage to solve the puzzle hidden in the pictures.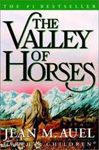 In the first part of the book we see Ayla's struggle to survive after being forced out of the Clan. The story introduces two brothers, Jondular and Thonalon, traveling on their Journey. Ayla has made great progress in her hunting skills, and she has made friends with both a horse and a cave lion. It is an event sparked by the cave lion that brings the three humans together.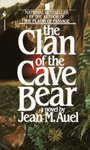 This is the first of a series of six books that take us through the life of Ayla, a Cro-Magnon child who is referred to throughout the book as being one of the Others. Ayla is five when her people are killed in an earthquake. She wanders alone and is near death when she is found by the Clan (Neanderthals). The Clan is searching for a new cave after the earthquake has destroyed their home. Ayla has very few memories of her life before the earthquake and she struggles to learn the very strict rules and traditions of her adopted family. When Ayla is just into her teens she is forced to leave her home with the Clan, but in that short period of time she has become a good hunter, a medicine woman and a mother to a much loved, two-year old son.
Friday, December 30, 2011
We slept in this morning and then spent a lot of time looking through some Italy guidebooks. There is so much I want to review before we get there so I won't be overwhelmed by all the new stuff we will be learning.
It was late in the morning before I made it up to my studio. There wasn't much question as to what I would do today – the floor was covered in "stuff". Last night I started cleaning out some of my dresser drawers and, of course, that led to sorting through a lot of stuff that was in those drawers. I made some decisions about what I wanted to keep and what I was willing to give up and had piles everywhere. Until everything was out of the dresser I couldn't begin to move fabric out of the trunk and into the drawers. By late this afternoon I could see the floor again and the fabric was all neatly tucked away in the drawers of one of the dressers. The second dresser is better organized too – it is behind my ironing board so I put things in it that I don't expect I'll need very often.
Shortly before Christmas I added an order for a new sewing foot onto a fellow quilter's online order so we would save a bit on shipping. The foot arrived in record time and I went to pick it up today. Marlene had the coffee on when I got there so we had a nice chat. She has some lovely quilts that she has made over the years and she gave me a tour of her sewing areas. She also showed me how to use my new ruler – no excuse now for not getting that Mystery Quilt cut out.
When I got home I finished cleaning up my mess and finally had a chance to cut some of my scrap fabric. I have squares cut from 5" all the way down to 2.5", as well as some Lego strips and strings. I decided that if I had enough material for more than a 5" square it would go in with my fat quarter collection. Two and a half inches is quite small so I didn't go any smaller than that when I was cutting. I think I have the process sorted out, and I have a box or container for each of the sizes. I still have a good-sized bin to go through so my work isn't done.
After supper Pat gave me another short lesson on website building. I'm going to spend the rest of the evening playing with the structure we have built.