Thursday, March 15, 2012
I had great plans for my office day. I didn't have much paperwork on my desk so I thought I'd make some progress on my scanning, or maybe cheat a bit and work on my Easter project. After spending over an hour on the phone this morning I wasn't left with much time to spare. I had a lovely chat with a fellow quilter about our jackets and quilting in general, and I sorted out my BOND schedule for the next few months. I still have some work to do finding a Red Cross volunteer, but maybe I'll get to that next week.
Thinking I would get a bit ahead on my Flat Stanley recordings I was ready to post Chapter 4 when I realized that I hadn't done any editing on it. While I was editing and converting it to an mp3 format I had this horrible feeling that perhaps I had posted the previous chapter without edits. I was relieved to see (hear) that Chapter 3 had gone through the edit process. Chapter 4 is posted tonight.
It was a busier than usual day at the Red Cross. There weren't many returns (and therefore not too much cleaning to do) but there were a few clients in to borrow items. In a couple of cases they didn't have the right referrals from their doctors or therapists so we had to figure out how to stay within the rules and still give them their equipment.
We were across the street at the library tonight for a reading by two local authors. I've heard Nola Poirer telling stories at several events around town – she is a very funny lady. I didn't realize that she was a published author and writing instructor, and is just finishing up her Masters degree in creative writing. Charlotte Gill, also a writing instructor, has two published books. Eating Dirt, her latest non-fiction account of her many years as a tree planter on the Coast, has been nominated for and won several book awards.
Wednesday, March 14, 2012
My usual routine on an appliqué day is to do my prep work in the morning and tackle some hand stitching in the afternoon. I got Block 10 placed and all the pieces for Block 11 turned before lunch. That was all for today though because I wanted to spend the afternoon working on my Easter project.
A week ago at the bee some of the ladies were talking about using small travel irons for appliqué work. And it just happened that Wal-Mart had them on sale. I was worried that it wouldn't get hot enough but the sales person said that if I kept my packaging and receipt I could bring it back if it didn't work for me.
I used it on some fusible web appliqué on the weekend and it definitely was hot enough. I gave it a try today when I was turning my hand appliqué pieces. Although it was hot enough to turn the edges, I quit using it after about ten minutes. The cord kept falling out and I'd have to stop, pick it up from the floor and plug it in again. The cord is detachable, and maybe after I use it a few more times all the kinks will be out of the cord and it will stay in place. I hope so anyway.
After lunch I started cleaning. Pat has his piano lesson on Wednesday and, for whatever reason, I like to clean while he is away. I had the bathrooms and most of the vacuuming done before he came home – much earlier than expected. It is Spring Break this week so there were no lessons. Next time I'm sure he will find some excuse to keep him out longer because while I washed the kitchen and hallway floors I put him to work finishing the vacuuming.
I worked on my Easter project for the rest of the afternoon. It was movie night tonight but none of the ferries ran all day so I wasn't sure that the film would arrive. I guess it either came by plane or they had it early. Once we go digital (if they raise the money) I guess the movies will just be downloaded and we won't have to worry.
I know Meryl Streep won the Oscar for her performance in The Iron Lady. In my opinion she's going to have to be spectacular to top Glenn Close in Albert Nobbs. I hadn't heard of the movie until the Academy Awards came on and I feel so fortunate that it was one of the picks in our Art Film series. We get The Iron Lady in a couple of weeks so I'll have a chance to compare their performances.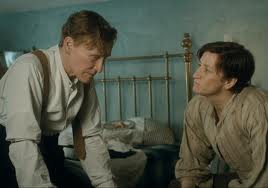 Albert is a butler in a hotel in Dublin. When he is unexpectedly asked to share a room with another workman, we find that Albert is a woman. Through the story we learn how Albert took this persona and how much s/he plans to escape the hotel business. Glenn Close is sensational, as are all the members of the cast. And if Mrs. Baker looks familiar – she was Shirley Valentine!
Tuesday, March 13, 2012
Today was a bee day and I am still working on my jacket. I expected to start the day by confessing to my teacher that I had decided to reverse the jacket, but she already knew. Barb lives on Texada, and I mentioned my plan to only one or two people, but word travels fast. Perhaps it was carried on the wind yesterday.
Barb was very understanding and I think she was impressed that I had taken the seams all apart and re-stitched them. I still have a lot of hand stitching to do and the pockets have to be sewn in place, but I hope to finish the project this week. My two-day class only took me seven days (and counting) to complete!
When I got home I had a bit of time to work on my Easter project. We have a very busy week ahead and I won't have many evenings at home so I won't be able to get much stitching done. I may have to take some time from my regular schedule to work on it.
I won't put off my Pay It Forward day though. I noticed that the fabric shop has some nice floral fabrics on sale. The fabric I used for the grid squares in my Sudoku quilt are floral and I think I'll keep to that theme for the borders and backing. I won't be ready for them for a couple of weeks, but I want to buy what I need before it sells out. Friday's project will be to get far enough along that I can do some calculations on how much and how many fabrics I need.
We were out to a jazz concert tonight. Jazz isn't my "thing" but the last two concerts we have been to have had a jazz focus. We heard the Diana Panton Quartet tonight. Her pianist, Don Thompson, is from Powell River and I enjoyed his playing. She also had a horn player (Guido Basso) and a guitarist (Reg Schwager). Most of the songs she sang were familiar and that made it more enjoyable for me.
Monday, March 12, 2012
The wind sure howled last night and into this morning. According to the news tonight, depending on which channel we were tuned to, our winds were anywhere between 111 and 113 km/h. Two panels in the fence in the back blew down, and the birdhouse Will made for us blew off it's hanger. We'll have to fix the fence, but the birdhouse is okay.
I had everything packed up for BOND this morning. I was making a stir-fry with rice so planned to take two of my own pots and my fry pan with me. It was while I was loading up my bags that I noticed the damage to the fence. Just a short time later the BOND office called to say that they weren't going to do the lunch today. They didn't think many would come out in the weather. As it turned out by noon the winds had died down a bit, but it would have been difficult getting the groceries to the car from the store and from the car into the hospital. The power was off at Safeway this morning so I expect Save On Foods (where I shop for the lunches) lost their power as well.
So what to do with my day off? When the kids were small and I had an unexpected day off the first thing I did was put in a load of laundry. My laundry was all caught up so I made myself a second cup of coffee and headed up to my studio.
I spent the day working on my Easter project. I finished the pieces for one unit, but I didn't like some of the colors and I thought the pattern looked a bit off. So for the second unit I'm changing some colours and changing parts of the pattern I didn't like. I've hit a rough patch on one of the pieces though. I've ripped it out at least half a dozen times because I always seem to be one stitch off when I reach the end of the row. The pieces have to fit together or I wouldn't worry about it.
I'll get my gear packed up tonight for the bee tomorrow and then maybe I'll tackle the troublesome piece again.