Thursday, January 26, 2012
I finally made it to my yoga class this morning. It felt so good to be stretching that I regret putting it off for so long. The class size seems to be growing so I'll have to get there in good time each week in order to secure my spot at the back of the room. It's a little like going to church early to get the back pew!
I had about an hour between yoga and picking Margaret up for our Red Cross shift, but I used that time to sew in some of the ends on Will's afghan. Both he and I are anxious to get it done and in the mail. It was busy at the Red Cross today. I washed down equipment for most of the two-hour shift. Even Margaret kept herself busy taking things to the sanitizing room and dropping off rags at the laundry.
I headed up to my studio when I got home and started work on some of the paper that has been accumulating beside my computer. There isn't anything urgent in the pile that remains, but I never seem to get to the very bottom of it. I took a bit of time this evening to transfer some of my quilting projects from the old website into the new. I enjoyed seeing photos of some of the projects I've given away in the past year.
I wanted to make something for Christmas for Diane, but I didn't want it to be "Christmasy". I found a pattern online, which is very appropriate because Diane and I are always sharing patterns that we find on the net.
I had some charm packs with a coffee theme and these seemed like a perfect fit to represent our friendship. We have shared many a morning, afternoon and night over steaming cups of coffee!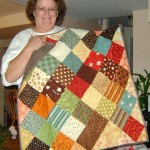 I used free-motion hearts and loops for the quilting.
Funky Flowers
This is a table runner I made for Kathryn. I should also credit Deloise on this because she gave me the pattern, she helped pick out the charm pack and backing, and then she showed me how to do fusible web applique.
Summer Daze
I made this from another of the Charm Packs Deloise helped me shop for when I was in Saskatoon in February. It is also her pattern. Pat was instrumental in the arrangement of the blocks, and it took us a long time to come up with a suitable name. I made this for Christy's birthday.
Whipped Up
On our trip to Calgary in November, I had gifts for Madison, Emma and Gavin. I decided I should whip something up for Elizabeth (hence the name). I used charm packs (pre-cut 5″ squares) so it  didn't take too long to make.
When we cleared out Mum and Dad's home in Saskatoon I kept a few of Mum's aprons. I always planned to do "something" with them, and over the years my ideas changed. When I started quilting I thought I could make a set of potholders for Stacia, Deloise and myself.
It took a long time to rip the aprons apart, but I ended up with enough material to make three table runners. Each runner has an original apron pocket used in the design, and the bindings are made from the waist ties.
Stacia gave me my first free-motion quilting lesson, and I tried something a little fancier with the one I kept for myself.
The photo at the top is one of the table toppers covering Mum's sewing machine.
Wednesday, January 25, 2012
Today was appliqué day in my studio. I'd like to say I have a block finished but, sadly, that will take a bit more stitching. Since I am so far behind in my "schedule" I decided to make a new schedule. Instead of trying to complete one block a month (which didn't work out very well) I'm going to devote one day a week to the project. I have several week's worth of work pinned to my design wall at this very moment!
While Pat was at his piano lesson I did a bit of cleaning. I don't know why I like to clean when no one is around. Is it because when someone is around and not helping I get a little annoyed? Is it because I use some bad language when the vacuum comes unplugged and won't reach the spot I'm trying to get at? Is it because I know, even as I am doing it, that I'll have to do it again in the not-to-distant future?
We were invited out to Lund for dinner tonight. Brenda and Geoff (who is Scottish) asked us to join them for a Robbie Burns Night at the Boardwalk Restaurant. We've been to Lund a number of times, but never at night. And we've been to the Boardwalk Restaurant a few times, but always sat out on the deck and not inside. And we've always gone to the Boardwalk Restaurant for fish and chips, and never for the haggis!
We started out with a beer and before the haggis was served we toasted it with a "wee dram of Scotch". I tasted the haggis and, unlike the last time I tried it, I was able to swallow it. I was glad that I still had enough beer in my mug to wash it down though. They served Cornish Game Hen (stuffed with haggis and rice) along with "neeps" (turnips) and "tatties" (mashed potatoes) with trifle for dessert.
The dinner was interrupted at several points with a couple of different folks getting up to read some of the poetry of Robbie Burns. There was much toasting going on and everyone seemed to be having a good time (and I don't think they were all Scots)!
Even if the food wasn't what I would have ordered for myself, I enjoyed the evening and the company.