Friday, December 1, 2017
Yay, I can finally start putting out my Christmas decorations. Since I came back from Saskatoon I've been itching to get it all out; Deloise's house was beautifully decorated for the Open House and Kathryn was busy getting her tree and decorations out. I admit that one of the table toppers I used last night for the House Concert was Christmas-themed but it was covered with glasses most of the night.
It has been a busy day today but I've actually accomplished something in the studio. We sat up late chatting but I was up at my regular (early) time this morning and I managed a bit of tidying in my space before anyone else was up. Because our performers came with a stand-up base it took two vehicles to pick them up from and deliver them to the ferry. As soon as I dropped off my passenger I headed out to do a bit of shopping.
When I got home I headed back upstairs and have three items ready for hand stitching – I'll pack them in my Texada bag. Along with those projects I've added three knitting projects as well as the second step on half a dozen other projects. No, I'm not staying for a month but I want to tackle at least one of each of these new projects so I can get an indication of how long they all will take. I also pulled fabric for another Christmas gift as well as the necessities for a couple more pillow cases although they aren't on the gift list and will get done "whenever".
We have a Cranberry Hall concert tonight. I've paid for my ticket so, in theory, I shouldn't have to do any work; I'll make myself available to help out wherever it is needed though.
November 30, 2017
Mum did so much knitting for us, our families, her grandchildren and several charities that this year I'm dedicating my donation knitting to her.
Wednesday, November 29, 2017
Yesterday was a long day. I was up at 4:30 AM Saskatoon time (translates to 2:30 AM my time) and didn't get back home until the 4:30 PM ferry (my time). I had a long wait in the Edmonton airport but it gave me a chance to finish up the hand stitching I had taken on my trip.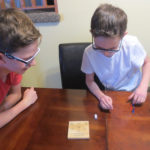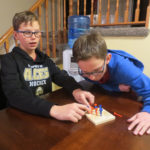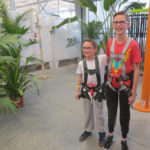 Although I didn't have a chance to see either Will or Alex on the ice, we had a few games of bowling and baseball before hitting the indoor zip line!
Deloise and Stacia hosted a wonderful Open House; I saw lots of McKnight cousins, nieces and nephews. I spent a couple of nights there so there was lots of "sister" time. We'll be together at the end of May next year when they come out to Vancouver for Quilt Canada. I heard talk of them getting Houston projects finished so they could buy from the Canadian vendors – I'm glad I haven't made any such commitments!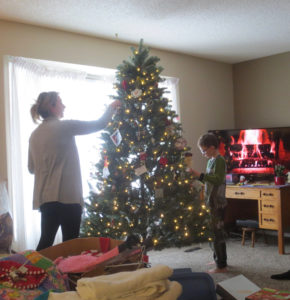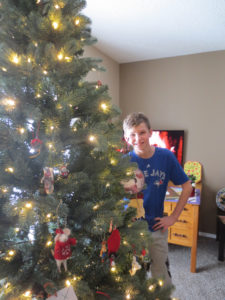 Kathryn was off the entire time I was there, but she works every weekend in December. While I was with them they set up their Christmas tree. She has some of the same ornaments as I have but it was fun to see the new ones she has collected.
Will's big job was to find the fireplace channel on the TV. We were disappointed that we were too early for Christmas music.
It was a great trip and the weather was really nice. I never once had to wear either my toque or my mitts.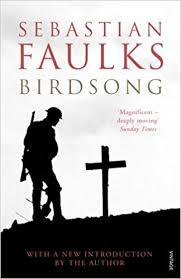 This seemed an appropriate story for my Remembrance Day weekend on Texada.
The story takes place just before and during the First World War, with some gaps filled in during the late 70's by the main character's granddaughter. The main character, Stephen, had a bleak upbringing in an English orphanage. Prior to the start of the war he was sent to France to learn about the cloth manufacturing business. While there he falls in love and has an affair with the wife of his host. The two run off together but when his lover realizes she is pregnant, she leaves the relationship without saying anything to Stephen.
Although I have read about trench warfare in the past, the descriptions in this book took my admiration for those soldiers to a higher level.
Goodreads Rating * * * * *
Tuesday, November 21, 2017
I still had a few things left to do before my trip so I decided not to go to the bee. I didn't have anything urgent that needed to be stitched, although there was lots that I could have done. I did a bit of shopping this morning and got home just in time to do an online check-in for my flights tomorrow. I've got most of my suitcase packed and I've decided on what boots to wear and what coat to bring; it isn't easy when you are going between heavy rain (here) and cold (in Saskatoon). There are still a few things on the bed that I need to see if I can squeeze in anywhere, and the size of my carry-on purse is yet to be determined.
I went out to QiGong tonight. I hate going out in the dark but I'm always happy I did it. Only one class left in this series. The last one is the night I return so I may or may not make it.
I'm looking forward to seeing family over the next week – the time will go too fast!