Saturday, May 27, 2017
On Thursday we took a day trip over to the Island – and boy did the day go fast! We were on the first ferry out in the morning and it was our first trip on the new Salish Orca. The ship is smaller and, so far, it still looks new. The main vehicle deck is on the very lowest floor which means you have three full flights of steps to get to the lounge areas. The stairway is very steep and narrow (although you don't notice it on the way up) and for the return trip we used the elevators as Pat has a bit of vertigo and if you started to topple it is a long way down and you'd take everyone else out on the way. The lounge area seems noticeably smaller, although we still have a full restaurant. The tables in the cafeteria are line up better to the windows, but the seagulls have already found them and they looked like they hadn't been washed – ever! On the trip over we saw a couple of orcas so it is nice to know they aren't scared off by the fancy painting on the sides of the ferry.
Our excuse for driving over was that there was some Cranberry Hall shopping that needed to be done at Costco. Pat paid for our membership online and when we got to the store we had to head to the membership desk. Within about ten minutes we had been persuaded to upgrade to the Executive membership – we'll see if we shop there often enough during a year to save the extra money it cost. While Pat finished up at the desk I went a got a cart; we both laughed because it was a BIG cart. However, we weren't even half-done our list and the cart was practically full. Project bins were on sale (5 for $30) and I was picking up a set for myself and another quilter and we got four folding chairs for the Hall. We picked up a package of toilet paper for the Hall, as well as one for another Board member; since they are a good deal we bought one for ourselves. Groceries weren't really anything we wanted although on another trip we might pick up some canned goods. We added in a package of kleenex and paper towels, and by packages I mean a case!
We went from there to the Needlework Loft – a very small needlework shop run out of a basement. I've been there before and, although she has a selection of patterns, only one of them called my name. I had a long list of floss I needed; she has every colour of floss and it is so neatly arranged it is easy to pick the colours you need. Just down the road from the shop is the Kingfisher Resort and Spa, a place Pat and I have eaten dinner at a couple of times. We'd never lunched there before but it was as good as dinner; they even had my favourite Lavender Martini back on the menu and yes, I did indulge in one. The ferry ride home was uneventful; we sat outside the whole way and both got a bit too much sun.
Friday morning and part of the afternoon was taken up entirely with baking for the event last night. At one of our house concerts one of our guests brought lemon tarts; they were absolutely delicious and Peter said the key was to make your own lemon curd (and he said it was simple). So that was my first task and yes, it was very simple. Next up I made a vanilla bundt cake; the cake was made using a cake mix and instant pudding so it went quite quickly. It still took just over an hour to bake though. Sour cream cookies were next on the list but when the first pan came out of the oven they tasted a bit bland so I made a lime glaze for them. Once the tart shells were baked I filled them with the curd and made some meringue to go on top. They were difficult to transport, but they tasted very good! I'll be using lemon curd for my lemon pies from now on (like I ever make lemon pies!) and I think I'll make tarts again but leave off the meringue; I'd use a full size shell rather than the mini ones next time because they will transport better. It's not often (in fact never) that I get a shout-out from the performer for my cookies; after he mentioned how good they were there were shouts about the lemon tarts and then one woman said she'd tried and liked all three of the treats. It was a small crowd and we didn't make much money but I'm still basking in the accolades.
Today feels like a slow day although I've accomplished a bit. I had rhubarb in the fridge from the market so I made stewed rhubarb – a favourite for my breakfast. A friend gave me some lovely fresh rhubarb so I've cut up enough for two rhubarb pies. I put one package in the freezer but I kept the other one out. I thought we might have rhubarb pie this weekend but we still have baking left from the concert so it might be next week before we need a dessert again. I also did three loads of laundry and I have them hanging outside. I did a bit of sewing this afternoon but by this time of day the upstairs gets a bit warm and I'm less productive.
Wednesday, May 24, 2017
Late yesterday afternoon the wind started blowing and it hasn't stopped yet. As the dinnertime ferry was pulling out I wondered how it would fare in the stormy weather. It didn't seem to be making its usual stormy weather run so it was probably okay. The evening ferry didn't run but we weren't surprised; I don't think I've ever seen swells like that so close to the terminal. Some trees were down around town and there were some power outages; apparently a tree fell through the roof of a mobile home in Wildwood. I saw on Facebook there were reports of damage to some of the boats in the harbour.
It has been windy all day today, although not quite as bad. I hung my clothes on the line this morning and I expect they are drying well in the wind. I noticed one shirt was wrapped around the line so hopefully I'll be able to pull them in okay.
I spent some time looking through recipes; I'm going to try three completely new recipes so hopefully none will be failures. This afternoon I picked up the ingredients I need but I won't bake until Friday morning as we are off to the Island tomorrow to do some Costco (and embroidery floss) shopping. I'm looking forward to riding on the new ferry. Hopefully the wind won't keep us on either side of the Strait longer than we want.
I've spent a bit of time today quilting a project; it is one that I've been putting off for far too long and it is actually going quite well. It is a gift so no sneak peeks here until it has been received at the other end.
Now I'd better get my clothes in off the line before they blow away!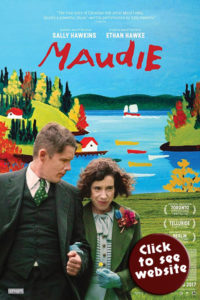 I didn't know anything about the artist Maud Lewis but this movie is based on her life. It is difficult to say how accurate the film is – one account online seems to indicate her husband was much less harsh in real life, while another account says he was worse. The film ends with Maud's death but I've read online that her husband was murdered nine years later in an attempted robbery at their home.
The acting is very good in the film. Ethan Hawke is believable whether he is playing the harsher or warmer side of Everett Lewis. With actions rather than words, Sally Hawkins displays the pain that Maudie suffers due to her arthritis, but shines in her small comedic lines.
May 23, 2017
I have often made cards with flowers for Wendy's birthday. Although perhaps not as flowery, I think this one fits in with the theme.
Tuesday, May 23, 2017
As I always do on bee days, I set my alarm for 7 AM. During the night I realized that I should have sent out a couple of Cranberry Hall e-mails so, after the coffee was started, it was straight upstairs to my computer to take care of that. I had a problem with my mail program and it took awhile to get it sorted out but eventually the postings went out to everyone that needed them.
One side of the backseat in my car was loaded with the bottles and cans that I wasn't able to return to the bottle depot on the weekend, and the trunk is full of books from the Guild Library. I wouldn't have had room to pack both mine and Carola's sewing necessities so my plan was to make a run to the bottle depot, come back home, pack my sewing stuff, pick up Carola and head out to the bee. But Carola decided not to go to the bee so my plans changed.
I helped Pat move the various parts for his Rubbermaid desk downstairs and then I loaded the car up with my sewing supplies. I earned just over $5 at the bottle return shop and then headed out to the Post Office. I had a couple of cards to get in the mail, as well as a cross stitch pattern I sold through one of my Facebook groups. From there it was straight to the bee – all that done and I was at the bee by 9 AM!
I worked in the Guild Library for the first hour or so of the morning. After all our book removals I wanted to make sure the list I had of the remaining books was right. There were a few inconsistencies but I assumed anything that wasn't in the library or already on loan must have been culled. Although the library is supposed to be closed until the move there were a couple of ladies who wanted books so I let them sign them out; it will be fewer books to move!
I had a card top finished before we broke for lunch. I'm more aware of precision piecing since my class and, although I didn't use glue, I did restitch a couple of seams because I had lost the points. In the past I would often not bother redoing something like that. After lunch I stitched one of the borders on my Vacation Time quilt – the Block of the Month from last year. I have the remaining two borders ready to go so I should be able to finish the project in my next sewing session.
I've started to look for recipes for the concession I'm doing on Friday night. Someone brought a bundt cake to the Guild today that used a cake mix so I've asked for the recipe. The website also had an interesting looking cookie so I may try those as well. I'll look through Mum's book for a third item; hopefully I can find a square that is dense enough that it can be served on a napkin.