Tuesday, October 3, 2017
We had a great show last night. By the afternoon I was telling Pat I didn't think the work involved was worth the free entertainment but this performer might have changed my mind. We'll see how the rest of the season goes.
It was a late night but I was out the door before nine this morning and headed for the bee. I took a project that I started in a class a couple of years ago and it felt really good to be making progress on it. The pattern sheets were all out of order and I think a few were missing but I was able to back track when I needed to and things went together well. Hopefully a couple more sessions and it will be done.
I didn't tire out at all today and I was one of the last ones to pack up. I knew I was back to "normal" when I was pulling out my leaders and enders before I sewed my seams.
The first weekend we spent at the studio on Texada we had a table but no proper chairs. I also noticed the lack of placemats when we ate our meals. I have two sets of placemats (4 in each set) at home but we sometimes need more than four at a time and the two sets are matched enough that they can be used together. That meant I needed to get busy and make a new set.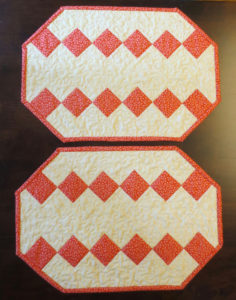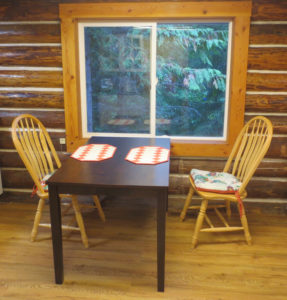 I had the orange fabric left from another quilt project so I thought I could use some of it up and we'd have a fall theme for this time of year. The pattern is called Fine Dining and it gave me a little trouble. It is set on point and I have a lot of trouble getting things to go the right way and put together in the right order but I managed. Although the placemats don't exactly match the chair cushions I'm okay with it.

Also on our first trip over we had plastic bags collected and no where to put them. I whipped up this simple bag holder and it is serving us well.
Thursday, October 5, 2017
I had a few errands to run this morning – a drop off and pick up at Cranberry Hall, a stop at the dollar store, a quick trip into Walmart, and money taken out at the bank. All that was finished before the Credit Union opened so I had coffee and a muffin at Quality Foods before making my Cranberry Hall deposit.
When I came home I got my reports ready for the Guild meeting tonight. I didn't think I had much to report on but when I started going through my files, my notes and e-mail I realized there was a lot.
When those reports were ready I caught up on the Cranberry Hall accounting. I got the minutes written and circulated so that is off my to-do list, although after the meeting last night I have a couple more action items I need to get done before the next meeting.
As we sat at lunch we were reliving our East Coast vacation. Pat has a friend visiting Annapolis Royal at the moment. He did the cemetery tour and we started to remember our trip. I had to go upstairs and get my journal out to fill in the blanks when we didn't remember where we went after we left Annapolis. I really must get back to digitizing my journals and photos.
We have the truck loaded for our trip across to the studio later tonight. We can go for half-fare during the week but we'd be at full fare tomorrow morning. I'll make a quick exit from the Guild meeting tonight (even though I am on kitchen duty) and we'll take the last ferry over.
We had the furnace over there checked out today. We got a call from the maintenance person saying he was done and he wanted to talk to us. That can't be good news. We suspect the fridge might not be working properly so we're taking a thermometer with us so we can check it out. Good thing it is stress free once we are there.
We have Internet at the studio now so I expect I can journal a bit over the weekend.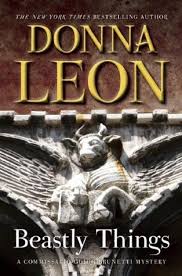 This author has a number of books based on the character Commissario Guido Brunetti; I just read that this is #21 in the series. The books are set in Venice and except for that fact I probably wouldn't read them. It's fun when I come across a scene set somewhere that Pat and I visited when we were there.
This is an easy read, and you don't really need to have read any of the others in the series to know what is going on. I've read a couple but they weren't in any particular order.
Goodreads Rating  * * * *
Tuesday, October 10, 2017
I headed out in the cold and the rain this morning and came home in the sunshine (but still cool weather). It is clouding over again and I expect there will be more rain before the day is done.
There are two on-going monthly projects at the Guild this year and I decided that I'd spend my bee days working on them. The scrap bag block was pretty easy; the bag I pulled already had all the pieces stitched together and all I had to do was cut it down to size. I doubt next month will be that simple. So I was on to the Row by Row for October. It is a combination of paper piecing, regular piecing, and lettering. I've done a lot of paper piecing so I thought that would be the easy part.
I had lots of fabric for the four blocks I needed to paper piece but on every one of them I cut off either the corner or a seam line. I didn't start over but added a piece of fabric where I was missing something. As long as the felt pen covers up the stitching I'll be okay, but they certainly weren't my best effort. The rest of the block is pieced but I need to do the lettering first. The designer (someone on the Program Committee) didn't provide a pattern for the letters – she drew them on the fabric and then did a satin-stitch to fill them in. I'm terrible at satin stitches (I know it is me and not my machine) so I'm going to try to figure out a different way to do it. Right now a felt pen is leading the idea board!
I didn't plan to attend the demo this month but since it is the day before our Community Quilt weekend I decided to sew on Thursday so I'd have a good spot for Friday and Saturday. I picked up the supply list today and I'll need a zipper so I'm already concerned! Not about finding a zipper but sewing it into the project!
Thursday is another hand stitching day but before I can do the hand stitching on my project I need to do a bit of machine sewing. That's what I have on my agenda for this evening.