Friday, August 25, 2016
Is my life boring? Perhaps, but it suits me just fine!
I spent the morning working in the yard. I went over a small bed that I'd done before and it took no time at all. Another larger bed, some of which had been done once, took the rest of my yard time; there is still one patch that needs to be finished but overall I'm pleased with how easy the second time around appears to be.
I've spent the afternoon putting together another card top. Although I like the results of paper piecing, it does leave a mess in its wake. There are bits of paper and fabric all over my cutting table; I think I'll clean that up before I start my next card top.
Thursday, August 24, 2017
I read for most of the evening last night, a bit in the middle of the night, and I finished my book this morning. I decided not to stop at the library to return my books until after my afternoon stitching session.
Thursdays are rapidly becoming my favourite day of the week – we've even given ourselves a name. I took no part in the discussion but we will be known as "Three at One". I've finished two pieces (one project) over the three weeks we've been at it, and I have a good start on another project. I opted for the second small project in the magazine that I have. A friend once said she never buys a magazine unless there are at least three things in in that she fully expects to make; I think for this particular magazine I'll stop at two projects because the other one I like is a quilt and I don't need another quilt-start. I will probably save that third pattern electronically and then give the magazine away.
In a few spare minutes every day I've been clearing off the bookshelves in hopes of having a yard sale (mostly books) in September. When I come across a book that I haven't read (or that I don't remember reading) I record it in a new library program I'm using. I figure I can always borrow the books from the library if I want them badly enough. After my return from stitching I headed to the library with my book returns. I meant to look at my Goodreads list before I left to see if I could find something from that list to borrow but I ended up taking out a couple of books that were on my new "off the shelf" list.
Although it was down to the wire, I managed four books in a month so I'm hopeful that two in a month will be easier going.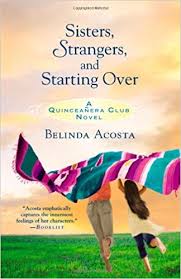 The book is set in Texas but it is about a family of Mexican heritage; it is one in a series of quinceañera books. I know from movies I've seen that a Quincenara is sort of a coming out party for young Mecican girls "because there is only one prom queen, you may never get married, but everyone turns 15".
It was an easy read, with a happy ending.
Goodreads Rating * * *
The name of the block doesn't really lend itself to an August birthday, so I added some fall shades!
Wednesday, August 23, 2017
I started my day by mowing the boulevard and the front yard. There wasn't much grass on the boulevard but those darned yellow flowers just keep popping up no matter how dry it is. Pat had cut down most of the grass yesterday but I think going over it with the mower smoothed it out. That was all I was going to do but Pat was busy trimming and shaping some of the bushes in the yard so I picked weeds until he was ready for me to help gather up his branches.
I've been doing the machine stitching on the small hand stitching project I've been working on at my Thursday afternoon sessions. Hopefully by tomorrow I'll be ready to stitch down the binding. I'll find another project to take with me but I'm not sure what – maybe another fall project from the same magazine I'm working from, maybe one of my many wool felt appliqué projects, or maybe I'll pull out that "raising children" stitchery that has been on my mind since Stacia finished hers.
I will have to do some fast reading tonight. My books are due at the library tomorrow and I've barely started the last one. It should be a quick read but the library closes at six tomorrow and, now that they have moved, it isn't as easy to drop my books off on the morning after they are due (but before the library opens). So far the book isn't good enough that I want to pay a fine on it.
I'm not making a lot of progress on my knitting project. We've been watching a sub-titled show on Netflix and I tried to do my knitting while we watched. I've spent the last two nights taking rows apart trying to find where I made my mistake – only four rows to a pattern but when there are over 300 stitches in a row it takes awhile.