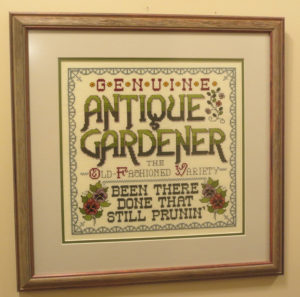 I don't know how long ago I purchased this kit. It was started "way back when" but I didn't finish it until earlier this year. It was originally intended for Dad but wasn't finished before he moved out of his house. I set it aside and lost interest in it. But joining some Facebook cross stitch groups got me stitching again and I finished it up.
This will be gifted to a friend in the Lower Mainland; Pat will take it to her when he goes down to do some consulting work in January. Heather has worked for many years with the Glorious Organics Co-op as well as with Farm Folk City Folk. And yes kids, Heather is the one who put the flowers in her salads! There is no one more suited to this than Heather.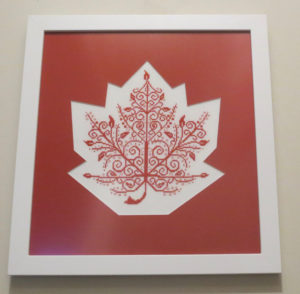 I got my Canada 150 project back from the framer today.
I first saw the pattern on one of the cross stitch Facebook groups I belong to. It was surprising how quickly it went together. With only one colour of thread, and very little backstitching, it was done several months before I managed to get it in for framing.
We don't have much wall space for hanging anything at the house but I may be able to find a spot in the studio for it.
Thursday, December 7, 2017
It took all morning to finish my Guild work for the meeting tonight. Our website is a freebie and therefore comes with size restrictions. Although we aren't entirely out of space I decided (for some strange reason) that today would be a good day to archive some of the pages and photos. I'm not sure what I'll do with them now that they are off the site but I'm thinking maybe some sort of binder with the "old" stuff. I'll check with the person who does the Archives, although she doesn't really do anything with her photos either. It will involve lots of work but perhaps I can do a little each week/month when I'm on the site anyway.
After lunch I went out to run a few errands; dropping some Cranberry Hall membership cards off and making a bank deposit. I did a bit of Christmas shopping and I think I'm done, unless I've forgotten someone or something. Don't get me wrong, I'm not DONE DONE as I still have a bit of sewing and stitching to finish up. I'm hoping to get a few packages ready for the mail tomorrow though and have everything ready by the end of the weekend. No Texada trip for me this week.
I'm going back to my sewing until it is time for supper.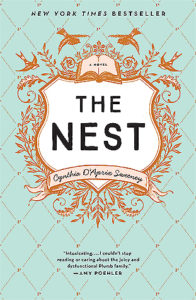 The four siblings in the Plumb family are anxiously awaiting the 40th birthday of the youngest. That date triggers the release of their trust fund (their nest egg, lovingly called The Nest). But when the eldest is involved in a scandal the nest egg is almost emptied to keep the involved parties quiet. As the other siblings realize they will be in reduced financial circumstances they scramble to either recuperate their loss or work out their financial difficulties in another way.
Goodreads Rating * * *
Wednesday, December 6, 2017
Although I wasn't able to find the patterns I was looking for last night, I think we all knew I wasn't just going to pitch the cross stitch pieces (partly because Mum stitched them and partly because I'm too cheap to waste an almost-done project). The back stitching might not be exactly as it should be but I think it is adequate enough to highlight the pattern. There is one more to do and I'll get to it soon.
I started my morning by working on reports for our Cranberry Hall board meeting tonight. I had kept up with things quite well during the month so there wasn't too much to do. I didn't have anything on the "Action Required" list; I usually forget about any of my action items until the day before the meeting and then I scramble to get whatever they are finished so I can report on some progress. After the paperwork was done I started back into my Christmas sewing. I have only a few items left on my list but I really want to get everything done and in the mail by early next week. I was working on a new pattern this morning and I've just finished it now. Hopefully the repeats I am making will go a bit quicker.
This afternoon I signed up for a class on how to make drier balls; the local wool shop was offering the class for free if you purchased the yarn. I needed to have 100% wool, which I had at home, but since they didn't release the supply list I couldn't take any of my own. They are quite easy to do and, in addition to my wool for the balls, I also purchased some red and blue roving (to spice them up a bit) and some felting needles. I've always been interested in needle felting so I think these supplies will work for more drier balls as well as other projects. I threw the one ball that I made into the washing machine with a load of laundry when I got home; the hot water is meant to felt it. It is ready to go into the drier now so I'll soon see how it turns out.
I'm going back to my stitching before heading off to the meeting.