Thursday, January 18, 2018
I spent most of the morning at my computer. I had some reconciling to do for the Cranberry Hall accounts and then I got as much done for the next meeting as possible. I paid a few of my own bills and sorted through my e-mail. I even took a look at Pat's accounts but there wasn't much I could do with them.
I took a short break to go out in the storm – for a free bed frame. Before we bought the new bed for Texada I wanted to get a new mattress for the bed in our spare room upstairs. But when I saw the price of the mattress I decided I'd just get a bed frame instead – the box spring and mattress currently sit on the floor. But then we bought the mattress and frame for the studio and all my plans went out the window. But today, because I was at my computer, I saw a post on Facebook for a free queen-sized bed frame. I was surprised I was the first one to respond; I went to the house to have a look but it wouldn't fit in the car. Fortunately someone was just leaving to go back to work and he offered to drop it off. It is an Ikea frame so it may be tricky to put together, but it looks like it will be nice (at least from what I can tell with it laying on the floor). I'll have to wait until Pat is home to start putting it together.
I received a kit from Deloise for Christmas for a Two Hour Tote. If my timing is right I should have just enough time to put it together before I need to get ready for the Guild demo tonight.
Wednesday, January 17, 2018
I've mentioned that I'm doing the cleaning at the Hall for this month. Today was week three so I've accumulated some savings. But a stop at the fabric shop more than took care of my earnings. I needed some Steam-a-Seam as I used the last of my box on some Guild projects; I've only ever purchased one box so it lasts a long time (but it also costs a lot). Deb gave me a good deal and I'm set now for another few years. One of the projects I want to do for the Cranberry Hall Member Appreciation event needs it so I'll put it to use right away.
I was tired when I came home; since I hadn't finished putting away my project from the bee yesterday I decided to do all the fabric cutting for my Circa 2016 quilt. I've carried a small bin of fabric with me to the bee each week but today, because I was home, I was able to dig through several bins of scraps to find some different colours and fabrics. I even managed to find all or parts of blocks I've done before that work in this particular quilt. Even with the cutting done it will take me at least a couple of weeks to finish the blocks, but I'm enjoying the process.
Getting all those fabric scraps out has left my studio in somewhat of a mess. I'll do a quick clean and then move on to something else.
Tuesday, January 16, 2018
I finished the pair of slippers last night as we finished the most recent season of Colony (on Netflix). I need to find some puff paint (whatever that is) to put on the bottom of the slippers to make them – well, less slippery.
I was off at the bee today, working on a few more blocks from my Tuesday project, Circa 2016. Yes, that was the year the quilt-along started but somewhere between then and now I got left behind. I managed to finish four blocks and get four more cut out. Because the blocks are only three and a half inches everyone assumes I'm working on a miniature quilt but, in fact, it will be full-sized when it is done. Just when it will be done is anyone's guess. I had two different people pass me bags of small fabric scraps; I may be getting a reputation! I was also able to pass on my last two Prayer Shawls to the person in charge; I've been carrying one of them around since before Christmas.
I did a Cranberry Hall deposit on my way home, but that was the only running around that needed to be done. I have to go out again tomorrow so if I forgot something I can take care of it then.
It will be a whole new game tonight – new Netflix series and a new knitting project!
Monday, January 15, 2018
I finished my knitting project last night. In spite of the fact that I had several other things in the line-up I started on something completely different.
I was chatting with a friend at our last house concert about the various craft sales that went on before Christmas. She was lamenting that she couldn't find the simple things – like a pair of slippers. She showed me how hers were almost falling apart and I decided I'd make her a new pair as a surprise at the next concert. The ones she was wearing were done with granny squares and I found a similar pattern. I did enough squares for one slipper last night, and I made a start on the second one. I had to wait until today though to watch a YouTube video to figure out how to sew the squares together.
I was upstairs in my studio when the ladies from Citizen Jane stopped in. They were on their way back from Texada and had a bit of time before catching the noon ferry to the Island and then heading off to Victoria for the night. We were happy to see them again and we are all hoping they can come back in the summer – their plans are tentative right now. They are anxious to see Pat's studio.
I caught up completely on my Guild projects today. The row by rows that we are doing all portray some aspect of Powell River. The November row was an ocean view (with whales and a lighthouse) and January's was of Willingdon Beach. I'm not really enjoying the process – my colour choices aren't the best and I don't like appliqué work. I definitely have the Willingdon Beach block reversed but unless you've been there (and seen the huge trees by the stage) you might not notice. We are still waiting for the author of the December block to bring us her instructions!
With those taken care of I decided it was time to settle on my Guild Challenge; since I put out the challenge I can hardly skip it. I'm going to do a Summer Solstice block (because our Pot Luck is on the 21st of June) in either an Emerald Green or Eggplant Purple. My quilting motif will be a Morning's Glory (hopefully I can pull it off). The challenge was to make a placemat using a block, a colour and a quilting motif that match your initials. I also dug out the pattern for my March miniature – what I make for the miniature meeting will also serve as one of the give-aways at the Cranberry Hall Members Appreciation event. We're up to almost 100 members as of Saturday night so I'll have to find a few more quick things to make.
I'm off now to pack up for the bee tomorrow.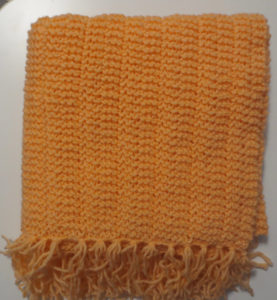 In an effort to use up some of my yarn I've been knitting Prayer Shawls for the Reformed Church of Powell River. The Guild meets at this church, both for our meetings and our bees.
I like the pattern on this one, but I found I was bored with it before I was finished. Have I mentioned that I hate fringes? It's all good as I used up another six balls of yarn.