We have two months between miniature quilt meetings so why am I always working on my project in the few days before each meeting?
The rail-fence blocks were done a long time ago – leftover scraps from a table runner, a chair cover and a bunch of neutrals I had in my bin. I always intended to make something with them and when I looked for a project for our meeting the idea of getting a bin of blocks off my table really appealed.
I made the pattern up myself. I was hoping for more of a shadow box look to the blocks; perhaps I need to have the border colours the same width. I think my Second Time Around (Splendid Sampler) will be done with shadow boxes so I'll find a different tutorial when I start putting those together. I have to admit though that when I see the photo it does give a bit of the effect I was going for.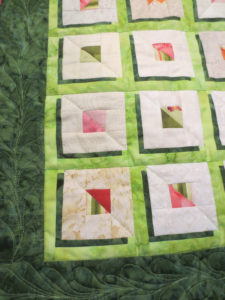 The "feathers" (and I use the term loosely) were my first attempt at them. Some are better than others but since I was keeping this for myself I decided they were good enough.
The name of the quilt comes from the 40 pieces of fabric that make up the centre squares in each of the blocks.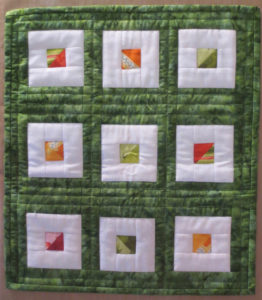 In 2016 our Guild hosted an event involving the Guilds on the Island and along the Sunshine Coast. I used some of these same blocks in a miniature quilt that was part of a raffle basket.