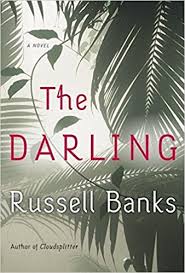 It took me awhile to get into this story but by about half-way through I couldn't wait to find out what happened.
The narrator of the novel is a late-middle-aged woman who is recounting her life. As a young woman she was on the FBI's most wanted list because of her anti-government protests and actions. She flees to Africa and ends up in Liberia where she takes a position working with chimpanzees. She marries a mid-level bureaucrat and they have three sons. Life is never easy due to government corruption and various factions trying to overthrow the current leader. Life gets more and more violent until she flees the country and makes her way back to America.
Just a few days after I finished the book there was a democratic election in Liberia, the first in almost 70 years. The results have yet to be announced.
Goodreads Rating  * * *